Iron Man Slots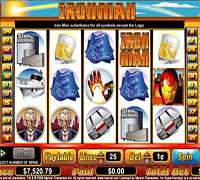 The man who sports a robot suit to save the world from villains and still drinks a cocktail is now making his debut in slot games! Iron Man, the hero with the power to save people in a suit, has finally come to the slot game world with his namesake game. The game, a 5 reel, 25 payline and progressive slot game, is brimming with Iron Man everywhere. From his likeness to the symbols associated with him, Iron Man is a badass slot game everyone's got to play.
Iron Man Slots No Download
Besides having the good betting options everyone can get into, it's one of the few slot games based on comics that have a progressive jackpot which means the jackpot keeps on growing as more and more people win and lose. At any time, one bet can win you millions of dollars. Think you can win and become your own Iron Man? Time will tell.
The bonuses included in Iron Man are phenomenal. From the wilds to the scatters, it gives you more chances of winning more winnings. The bonus round of the game is also cool, where you have to blast windows to retrieve blueprints. Playing a slot game while doing hero work? Nice.
The world is in danger and in times of need, Iron Man is there. Help him save the world and win your money.
Update: As with all Marvel slots games, this game has been discontinued.
Slots Game Review
Slots Reviews
Review Date
Reviewed Item
Author Rating