Isis Slot Game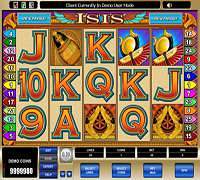 Who is Isis? She's the Goddess of Magic in Egypt. While you may not know much about her, you can now take a gander at her majestic influence in the game named after her. Get cracking and play the slot game that emits the vibes of her in Isis.
Isis is a 5 reel, 25 payline slot game with a non-progressive jackpot which has the usual bonuses of wild symbols and scatter symbols. The game's graphics focus on the theme of Isis, with gold symbols that represent the alluring goddess. From her symbol to the symbols that represent something about her, you'll love the Egyptian theme. It's definitely a visually-appealing slot game.
Slot gameplay is great as well. Besides the solid betting options, the bonuses are something not seen in most slot games. The Isis bonus symbol gives you a chance to win the 10,000 jackpot and the Hawkeye scatter symbol gives you a chance to win free spins of up to 30. That's something you don't get in other games.
Whether you know or her not, Isis is making her debut on the slot game world and what a debut it is. With solid gameplay, awesome bonuses and great visuals, you'll come to chant her name in glory after you play her namesake game, Isis.
Slots Game Review
Slots Reviews
Review Date
Reviewed Item
Author Rating