Viking Age Slots Free Slot Game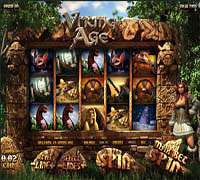 Are you a Viking? If not, well, it's all right because you can experience what it's like to be a Viking in the slot game Viking Age.
Viking Age is a 3D slot game where it implements the theme of a Viking's life. From the soldiers to the chicks, you'll see how good the developers are with quality. The game is flourished with all types of Vikings: the blonde, the brunette and the red-haired. You can also see the Viking themes: courage, confidence and action. You'll also see how epic these Vikings can be with the enemies they have to fight. It's definitely an action-packed theme not many slot games go for. In terms of slot machine mechanics, it plays right so you'll feel right at home with this one.
Free Slots Game Bonus Rounds
When it comes to bonuses, Viking Age doesn't have any wild symbols which can be a letdown for many slot gamers who always expect a wild symbol. But when you see what the scatter symbols can do, you won't need a wild symbol to win. There's also the Arm Wrestling feature, where you choose the strongest of two Vikings and guess the outcome of flipping the coin. You'll win big if you guess right.
Whether you're a Viking or not, try Viking Age. It's got great graphics, great sound and it plays right. And it's all in 3D, so feel the power and become a Viking for a day!
Slots Game Review
Slots Reviews
Review Date
Reviewed Item
Author Rating