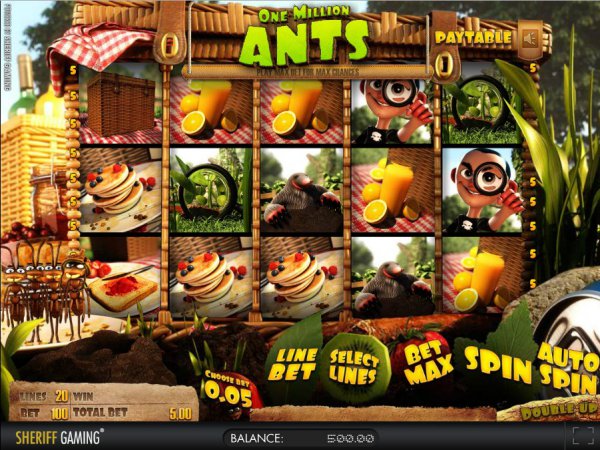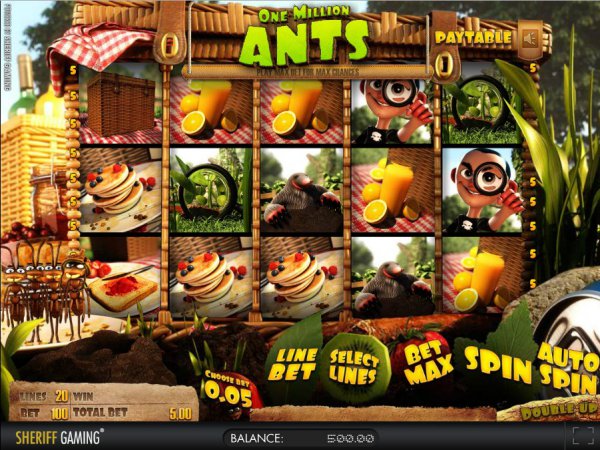 Now here is a really interesting theme for a slot game. The slot is built around the joy of ants. The ants in Online Milliona Ants slot are pretty interesting little insects thanks to their amazing strength and ability to work together.
Cool Visuals Add to the Curiosity
The creatures definitely have something about them that makes them incredibly fascinating. You might very well be fascinated with the One Million Ants video slot. Sheriff Gaming put a lot of effort into crafting a brilliant 3D slot game that really comes off the screen. The stars of the shot, the ants, are presented in an interesting cartoonish way so you do not feel like you are watching a documentary when you pull up to play. The picnic boxes that surround the reel are a real nice touch as they pay homage to the traditional fun image of ants in classic cartoon shows. Symbols include a nerd with a magnifying glass, a stack of pancakes, and bread with jam on it.
Visuals are not the only reason you want to play though. You want to win and take advantage of free spins. So, let's take a closer look at what this slot has to offer you.
Paylines and Reels
Among the most important traits to look at in a video slot is the paylines and reels and One Million Ants delivers a decent serving of both. There are five reels and a full 20 paylines, a significant amount that does open doors to a lot of combinations opening up. If you hit on the right one, a much appreciated free spin could be delivered. The more spins you receive, the more you have a chance at winning so the combination of freebies, wagers, and multi-line and reel bets could deliver a nice payout.
What about those payouts?
The slot is very generous when it comes to the amount of coins and wagers placed. The minimum bet per line is .01 (a penny) and the maximum is $1.00. The most you can wager at one time is 100 coins per spin and, if you place the maximum wager, the chance of winning the jackpot is accessible.
The jackpot is nothing to dismiss as the payoff is a full $25,000. That amount is very generous and not too many free spin video slots games even offer a jackpot much less a lucrative one.
The high bets probably are going to catch people's eyes, but the very low threshold for wagers should not be ignored. Someone who may be totally new to slot gaming isn't best served wagering a lot all at once. Betting a penny, however, is a small investment that helps the newbie learn the ropes. A legit payoff could be acquired from the penny bet so you could earn while you learn.
A Solid Free Slot Game
Of the many free slots out there, One Million Ants is a really fun game that delivers both high and low betting limits that make it perfect for all sorts of slot lovers and gamblers.
This and all Sheriff Gaming 3d Slots are Now Discontinued. You will find similar 3d slots here.