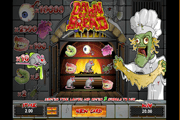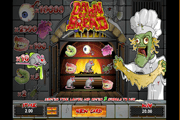 Dawn of the Bread by Quickfire Scratch to Win x10,000 Top Prize
Be in the company of a zombie baker in this engaging horror-themed scratch card entitled Dawn of the Bread by Quickfire, where a player could win up to x10,000 the money staked. As a virtual scratch-to-match game, the playing experience is akin to having an endless supply of scratch cards to play with to one's content.
The Quickfire Dawn of the Bread game presents players with a card on which values ranging from 0.50 to 10 credits could be placed as bet. Players have the option to reveal the images hidden behind the set of nine (9) "Loaves" by clicking on a loaf image one at a time; or, by simply clicking on the "Reveal All" button to get instant results. The goal is to have three-of-a-kind images as outcome.

Clicking on the "New Card" resets the game, which presents a new set of Dawn of the Bread by Quickfire "Loaves" for another round of virtual card-scratching actions.
Dawn of the Bread by Quickfire Payout Scheme
Keep an eye on the horrific "Eyeball" image, as hitting three of those in a single revelation will bring the x10,000 multiplier top prize. Getting three of the healthy-looking "Heart" image would be a great Dawn of the Bread scratch-to-match win, since the payout will be 2,500 more than the bet (x2,500).
Three complete set of "Dentures" could get a player smiling with x100 win. Quickfire Dawn of the Bread rewards players with x10 multiplier for revealing three images of the sneaky little "Mouse." Since this is a horror-themed scratch card game by Quickfire, three slimy green "Worm" images collectively pays with x5 multiplier as reward. The Master Zombie Baker must be attracting a lot of "Green Stink Bug" images with his nasty smelling loaves; the bugs tend to appear more frequently to bring the least reward of x2.
Calculating an Instant-Win for Dawn of the Bread by Quickfire
In the event that the scratch outcome produces more than one three-of-a-kind matches, the image with the higher payout-value prevails as one's win for the card.
Let us say a player makes a wager using the least credit value of 0.50 for each new card. Hitting three of the "Green Stink Bug" images would result to a minimal win of one credit. This is because the 0.50 bet on the winning scratch card revealed the image that has x2 multiplier, or simply calculated as 0.50 x 2 = 1 credit.
On the other hand, if the outcome also revealed three "Eyeball" images, then the player will receive 5,000 credits as payout win or the equivalent of 0.50 x 10,000 credits. This is because the "Eyeball" win has a higher payout value.