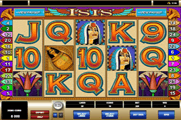 Isis Free Slots Review
Isis was the Egyptian goddess of magic and nature, and what better way to honor someone than with their very own slot game? The theme of this game is very Egyptian, and rightly so. The color scheme is mainly golds, yellows and oranges, with some blues, purples and greens thrown in for contrast. For graphics, they went with things like Egyptian fans, canopic jars, the Eye of Ra and other like symbols. They avoided the use of hieroglyphics, which makes the game easier for everyone to play and understand, but might have made it a little more authentic.

Instead of a typical white background on the reels, they went with more of an sandy light tan that would be typical of the parchment used back then. It really adds to the symbols, rather than taking away from them, and doesn't make them stand out any less. There's also no bonus game, which is always nice to have, but I guess the 25 paylines makes up for that. It's pretty hard not to win some meager amount every round, even if it doesn't even make up for the cost of your spins.
Isis is a very fun game to play, and I really enjoy playing any kind of game that has multipliers and free spins. The thrill of seeing the multiplier add up and the anticipation of hitting just the combo you need to win big is what keeps me coming back to games like Isis. No progressive jackpot, but those are few and far between anyway. I'd rather win the game jackpot than compete against thousands of others for something I'll probably never win.
Slots Game Review
Slots Reviews
Review Date
Reviewed Item
Author Rating