Tally Ho Slot Game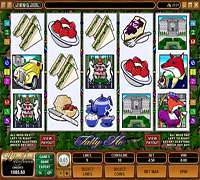 What would happen if the world suddenly became the world of foxes? When all of a sudden, we humans became foxes? You'd get Tally Ho, a fox-themed slot game where there is a world of anthropomorphic foxes living like human beings.
Tally Ho is a 5 reel, 9 payline and non-progressive slot game that doesn't disappoint in visuals and gameplay. The visuals deliver well; you can see the slick art style smoothen out. It's 2D yes but it suits the game very well, showing you a mix of the elegent style of the rich and the modern comic look. The gameplay bodes nicely; you have all the betting options you need to make that win . The wild, scatter and bonus symbols are an attractive incentive for many to bet as much as they can. From the free spins to the increase of multipliers, Tally Ho awards those who take the plunge.
Don't forget the max jackpot prize of this game: $60,000. It's a prize to behold and something only Tally Ho can offer to you. Will you be able hit it big in this world of foxes living in a world like ours? Take on the Tally Ho and try it for yourself.
Slots Game Review
Free Slots Reviews
Review Date
Reviewed Item
Author Rating