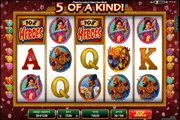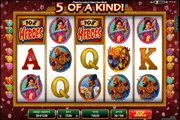 108 Heroes Online Slot – Win 3x Payout Value with Bonus Game Spins
108 Heroes is a 5-reel, 15-payline online slot entertainment furnished by Microgaming via the Quickfire platform. Apparently, the game's developers took inspiration from ancient Chinese battles that took place during an age when emperors waged wars against neighboring kingdoms.
This online casino entertainment uses as reel icons, images of an ancient Chinese Military General, an Emperor, and some formidable warriors. A Pick Me Bonus Game presents 12 King's Treasure Chests, which appears to be the bone of contention so to speak, between the warring factions.


108 Heroes slot players can claim some of the loot as guaranteed bonus rewards, by simply landing on the right number of Bonus Game Trigger symbols. Greater rewards are in store in the Free-Spins Bonus Round, as all bonus payline wins are paid at 3x the payout values of winning matched symbols.
108 Heroes Online Slot – King's Treasure Bonus Game
It seems that the King's Treasure has been carted away to Liang Mountain. Here, twelve (12) Treasure Chests will be presented to 108 Heroes slot players entering the bonus game. Each Treasure Chest contains a prize amount, and bonus game players have three (3) chances to unravel bonus rewards. There is a prize bracket though, based on the number of Treasure Chest Symbols that activated the bonus game:
• 3 Treasure Chests grant Bonus Pays ranging from 36.00 to 1,500.00
• 4 Treasure Chests bestow from 48.00 up to 2,000.00
• 5 Treasure Chests award cash bonuses totaling 60.00 up to 2,500.00
108 Heroes Free-Spins Bonus Game with Scatter Pays and 3x Win Multiplier
An icon labeled as Liang Mountain (in Chinese characters) serves as the trigger symbol of the 108 Heroes Free-Spins Bonus Round. Three (3), four (4), or five (5) Liang Mountain symbols activate ten (10) free spins. Players entering the bonus round instantly receive Scatter Pays of 150.00, 300.00, 3,750.00 or as much as 30,000, if triggered accordingly by at least two (2) up to five (5) Liang Mountain icons. The value of each Scatter Reward though, is dependent on the Total Bet placed on the spin that set off the bonus round.
The Scatter Pay is only a portion of the rewards that can be won from this particular segment. As 108 Heroes bonus game players spin the reels in the free round, they receive winnings at triple the actual paytable of the winning matched-symbols. Based on the game info, the top prize that can be won from the free round is up to a maximum of 120,000.00.
To increase players' chances of reaping as many tripled winnings as possible, the Liang Mountain icon remains active in the bonus round. This denotes that if another set of three (3) or more emerges after a bonus spin, an additional round of ten (10) bet-free spins will launch.
108 Heroes Online Slot – Wild Symbol
The 108 Heroes Logo is the Wild Symbol. Slot players will find this icon useful as suitable substitute for regular icons, if positioned next to identical symbols along paylines. The game pays 150.00, 300.00, 3750, and up to 30,000 respectively, if the Logo Wild itself forms a combination of two (2) or more Wild groupings in any payline.