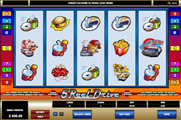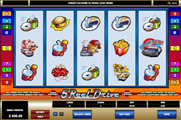 5 Reel Drive Free Slots Review
Are you crazy about cars and America?  The slot machine 5 Reel Drive, from Microgaming is probably perfect for you. Here you have everything related to the 50's and 60's. Everything from poodle skirts and slick hair to diners with homemade pie. Nostalgic feelings are at their peak when we start the engines on the slot machine. Join us as we go through the most important details.
5 Reel Drive is a classic slot game in many respects. It does not belong to any of the simpler machines, but not any of the more advanced. 5 Reel Drive is pretty straightforward with five wheels, three rows and nine active paylines. Here it is not a matter of any complicated combinations but all gains are clear.
You can bet between 0:01 and 2 credits per active pay line, which means that a round will cost you between 0:01 and 18 credits. Thus it is important to find an input level to suit your playing budget and it's easy to adjust the action at each round if you wish. All winning combinations are as previously mentioned, simple and counted from left to right in the picture.

There is a smooth expert function integrated in the 5 Reel Drive. This means that the reels spin automatically as many times as you wish. You set the settings beforehand and when this is done spinning wheels of your choice. When expert mode is enabled, only to sit back and hope for the best.
As we mentioned earlier, all symbols are related to cars. Most give regular payments under the pay table but there are a few special symbols that are worth watching, namely scatter and wild symbols.
Wild symbol is characterized by a road sign with a black arrow on a yellow background. This symbol acts as a wildcard and substitutes for all other symbols in search of a winning combination. Have you got wild symbols on reels two and three on an active payline, you have the won.
The scatter symbol which can also be called a scatter symbol is the only symbol that does not need to line up on a line played to win. At least three police cars regardless of their location on the playfield activate payment. The maximum number of police cars you can get on the court is five and this gives a pretty nice profit.
The most important indicator to watch is the burning deck. You have up to five of those on a played line, and can win as much as 10,000 credits. This is a big win in 5 Reel Drive and it would be paid when you play.
In summary, 5 Reel Drive a delightful gaming machine that you will probably recognize from cruise ships and land casinos. Sound, graphics, and combinations are very similar to those seen when playing the physical slot machines. We believe that the 5 Reel Drive will appeal to car enthusiasts the most, but there are certainly many others who can find joy in spinning the wheels a few times.