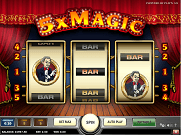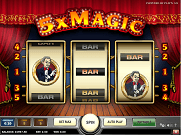 5xMagic online slot is an easy and fun game to play, and it's based around the theme of magic. The game goes directly to the reels, and the reels sit above a stage, and the curtains are opened to the left and right of the reels. The game has three reels, and five pay lines, allowing for the possibility of a higher win amount. The game will have a low sound playing in the background the entire time. The game has a wild symbol, as well as a scatter symbol.
The x5 symbol is the wild, and it can substitute for any symbol within the game, except for the scatter symbol. Those who receive one of the x5 symbol, can get five times the prize, if they get a winning combination.
Receiving two of the x5 symbols, can pay out 25 times the prize amount, if the player gets a winning combination. There is a different payout amount, if the pay line shows that there are three of the x5 symbols. The scatter symbol in the game is the top hat, which is similar to a magician's hat. Twenty Five points will be paid out, if there are three scatters on a pay line. Other symbols that are within the game include, bar symbols, which may be one bar, two bars or three bars. The more bars in the bar symbol, the higher the payout.
Another symbol within the game is the magician himself, and he has the highest payout symbol, except for the x5 symbol. It's possible to receive up to 5000 coins, if the right combination of the x5 symbols are received. Besides the x5 symbol, and the scatter symbol, all other symbols will have a winning combination, if any three of them are on a pay line. Although the symbols to look for are the wild and the scatter symbol, other symbols can give the player a good payout amount, especially if a wild substitutes for another symbol.