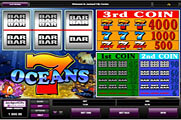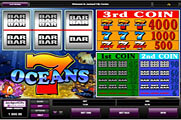 Free Slot Machine – 7 Oceans
Are you ready to go on an adventure across the 7 Oceans, you better be, this is because this is exactly what this Microgaming game has in store for you. The game will take players on a great experience where they can enjoy their time while earning great payouts and rewards. All what they have to do in order to be able to reap on these rewards and to enjoy this water trip is to place bets and start spinning the reels.

The Free Slot Experience of 7 Oceans
This experience is offer to players in a classic setup of three spinning reels with one single payline that is found in the middle of these reels which resembles the classic and traditional slots that players used to enjoy at bars and pubs as well as the land based Las Vegas gambling venues. The symbols that will land on the middle payline of the game are the ones that matter.
Players will see the three reels of the game on the left side at the top, as for the icons that will be seen spinning on these reels and the payline of the game, they include the classic symbols such as blue sevens, yellow sevens and the traditional bar symbols (1 bar, 2 bars and 3 bars).
The different payouts that online players can earn through the line payouts can be found on the right side of the reels at the "paytable". This table lists all of the possible combo of symbols that will make players eligible to claim a payout if they land on the payline of the game. The payouts will also depend on the bet that players have placed as they can place 1 coin, 2 coins or 3 coins. Of course, placing the max bet of 3 coins is the best course of action, especially in small games like this one, as it gives players the chance to this the jackpot of the game.
This jackpot is given by the yellow seven symbol, which does not come as a surprise since the game's name is 7 Oceans. The biggest reward is given to players that get three yellow 7s on the payline of the game. They will get to claim a payout that is equal 4000 coins, given that they have placed the 3 coin bet before starting to spin the reels of the game.