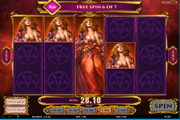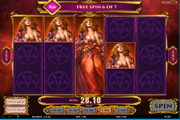 7 Sins Online Slot: 7 is Wild, Double 7s are Wilder, while 7 Temptresses are Ladies of Luck
7 Sins is a PlayNGo online slot with 243 ways with which to strike wins on 3 or more matched symbols coming from the leftmost column and in adjacent reels. Here, Temptresses of Greed, Envy, Lust, Wrath, Gluttony, Sloth, and Vanity could bring luck instead of decadence. Rather than entice 7 Sins players to throw caution to the wind and gamble irresponsibly, their images present a Second Chance of triggering the Free Games.
In the free round, every bonus spin is dedicated to a Lady of Sin, as all bonus reels contain only one type of icon. After all, the images of the alluring women are the top-paying symbols, particularly the Lady in Gold Gown representing Greed.


7 Sins Online Slot: Wild Symbol
The Lucky Number 7 poses as Wild Symbol, perhaps to counter the negative representation of the Sin theme. It comes into view, either as Single or as Double 7 icon. The Single 7 takes position in Reels 1, 3, and 5, while the Double 7 image emerges only in Reels 2 and 4.
A Double 7 already counts as two (2) consecutive Wilds. This means that if it lands on Reel 2, images positioned in Reel 1 can easily complete a winning 3-symbol combination. Matched consecutive icons positioned next to each other in Reels 1, 2, and 3 would extend to become a 5-symbol combination if a Double 7 icon is in Reel 4.
Even greater still is that a grouping of three, four, five, or even up to seven 7 Wild Symbols, is a win. Coin Credits of 5x, 10x, 100x, or 350x the coin bet will awarded accordingly; but only on the longest matched grouping per line. If by stroke of luck, Reels 1, 3, and 5 return with three (3) single Wilds in place, while Reels 2 and 4 return with a Double 7, the result is a 7-symbol Wild win.
7 Sins Online Slot: Bonus Game Symbol and Second Chance Respin
An icon depicting Pandora's Box symbolizes the Bonus Game trigger element. Whenever three (3) or more of the totem land simultaneously in any column or row, the Free-Spins Bonus Round kicks off.
Yet two (2) Pandora's Box in view is enough to trigger the Second Chance Feature.
Pandora's Box Second Chance Feature – occurs when two (2) of such symbol is in sight. To help players complete the required 3-symbol match, the Second Chance feature presents all 7 Ladies of Sin as potential bearers of the 3rd Pandora's Box Symbol. Some of the images though may instead reveal an instant Bonus Win of up to 15x the Total Bet. Choose carefully, as any one of those Temptresses has nothing at all to offer, not even a consolation prize.
7 Sins Online Slot: Free Games with Progressing Multiplier
A round of free games comprises 7 bonus spins, played on different sets of reels containing a single type of Lady of Sin. Each of the seven spins is dedicated to a Temptress whose icon constantly appears as a full-reel image in Reel 3.
Progressing Win-Multiplier – To make the bonus round more exciting, every Bonus Spin comes with a 1x multiplier that adds up after each free turn. By the time the bonus round gets to the 6th and 7th free-spin, the multiplier will have progressed to 6x or 7x, respectively.