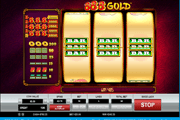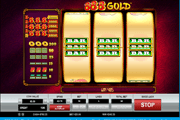 888 Gold Online Slot: East Meets West in a 3-Reel Classic Slot
888 Gold is an online slot that combines Vegas style elements with Chinese motifs. Pragmatic Play offers a 3-reel online casino entertainment in which the classic BAR-BAR-BAR, BAR-BAR, and BAR slot icons combine with Chinese good luck symbols such as the number 8, a Gold Coin and a Red Lantern.
Winning combinations constitute three (3) identical elements, falling in any of three horizontal lines and/or two diagonal lines. The Number 8 is the highest paying icon and Wild Symbol at the same time. After all, Eight (8) is widely believed as the luckiest number in China. As a popular motif in Chinese culture, the number 8 is often times included to attract positive life-force (chi) that will make an event successful, or an undertaking profitable.


Other reel elements appearing in this slot include a Gold Coin and a Red Lantern, regarded as important traditional objects during Chinese celebrations. Here, three (3) Gold Coin totems lining up in an active payline awards 200 coin credits, while a three (3) Red Lantern hit brings 10 coin credits. The 3, 2, and 1 BAR variations award 50, 25, and 15 respectively. In keeping with traditional Vegas-style slots, this 888 Gold game awards 8 coin credits on ANY BAR combinations occurring in a played line.
888 Gold Online Slot: Wild Symbol
The Number 8 represents the Wild Symbol that functions like a joker card. When aligned with identical images in a live payline, the 8 icon can easily complete a 3-symbol winning combination.
Yet when the 8 totem itself lands as one-of-a-kind winning images, the rewards in store are exceptional. Apparently, it is the only 888 Gold Symbol that has potential to generate multiple wins. The Paytable outlines a reward scheme for five types of 8-wins. In the event all 5 reels and 3 rows are filled with 8 totems, as many as 6,000 coins will be credited as winnings.
888 Gold Online Slot: Betting Options
The betting options in this online slot include choices of coin values, number of coins staked per line and number of paylines to activate. The coin denominations available as choices range from 0.01 to 0.50. To increase the coin value, 888 Gold players can increase the number of coins to place as wager per line, by selecting between 1 and 10 in the BET tab.
The Bet per line is the coin value multiplied by the number of coins staked per line. The minimum wager per payline therefore is 0.01 (0.01 x 1 coin,) while the highest is 5.00 (0.50 x 10 coins.)
The number of paylines activated, multiplies the Line Bet to arrive at the Total Bet staked per spin. The minimum bet per spin therefore is 0.01 (0.01 x 1 payline), while the highest is 25.00 (5.00 x 5 paylines.)
Be in the know that the amount staked on each active payline multiplies the coin wins received as rewards for winning payline combos. The 6,000 major coin prize attributable to the 8 Symbol for one, is equivalent to 60.00 (0.01 x 6000 coins) if won with a 0.01 Minimum Bet; or to 30,000.00 (5.00 x 6000 coins) if attained thru a 25.00 Max Bet.