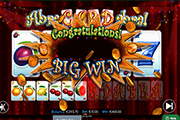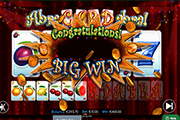 Abracardabra Online Slot: Unique Poker-Style, Symbol-Matching Game
Abracardabra online slot by Betdigital furnishes a unique online casino entertainment. The structure of the game has some similarity to casual poker. Here, Vegas-style icons pose as card symbols rather than reel elements. Base game plays carry on with five board positions on which 7s, BARs, or Fruit Icons land as dealt cards. A set of 3, 4 or 5 alike images arriving as board displays, is a win. A player then collects the corresponding payout; but only on the longest grouping. In this poker-style slot game, matched images may appear in any of five positions.
Now if three or more Bonus Symbols land on the board, the game advances to the Bonus Game Table. Aside from the five-card display, 12 smaller cards appear as lower deck array. A mishmash of 17 symbols will be available as elements to match. and to hit as 3, 4 or 5 of-a-kind win. Every winning outcome allows a player to receive a fresh set of combinations, until the "Cards Remaining" meter drops to zero.
However, the bonus game ends once a set of dealt cards fails to produce at least one win result.


Abracardabra Online Slot: Hold Feature
To boost players' chances of hitting a win, this poker-style slot comes with a Hold Feature. Prior to clicking on the Deal button, a player may choose to keep some symbols on hold by clicking on the icon. He or she can do the selection manually and afterwards, click on the Draw Button to remove the rest; or opt to use the Auto Hold system instead. Presumably, the system will choose to HOLD Symbols that will likely find a match in the next set of cards.
After which, the symbols selected will then be marked as HELD, and retained as board display for the forthcoming card deal.
Abracardabra Online Slot: Magic Hat Bonus
This feature triggers at random to deliver and place one-of-a-kind cards on the board. However, the game does not give a guarantee that any images coming out of the Magic Hat will result to a win.
Abracardabra Bonus Game
The moment a player receives three or more BONUS cards, the game immediately transfers to the Bonus Game Table.
Seventeen (17) Abracardabra Cards will be in view. Five (5) of which are placed as upper deck cards, while remaining 12 are smaller cards posing as lower deck deals.
On each bet, the lower deck array may combine with those displayed by the upper deck. All winning symbols in both upper and lower decks, will then be taken out and replaced with new cards. If the next array of cards produce matching icons, the same procedure transpires.
Card replenishments continue if each set of cards results to a win; or until the "Cards Remaining" counter drops to zero.
Bonus-Win Multiplier
At the start of everuy Bonus Game, a Win-Multiplier is awarded. The number of Bonus Cards that triggered the feature determines the Multiplier Reward. A set of 3, 4 or 5 Bonus Cards correspondingly awards an equivalent 1x, 2x or 10x Multiplier.
Pay attention to Bonus Symbols emerging as upper deck displays. Each Bonus Card represents an additional 1x Multiplier Value; thereby increasing the Win-Multiplier awarded at the onset of the bonus game.