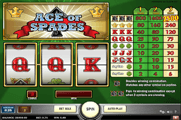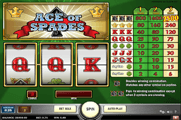 Ace of Spades is an awesome three reels and one payline slot that is created with an awesome interface. This translates to three spinning reels from which you form a winning combination. There are no complicated procedures to enable you to play the game; everything is placed strategically to allow easy navigation while playing.
This is a fixed coin slot as you are limited in the amount of money you can wager during every reel you have chosen. The amount is fixed at exactly 1.00 while you increase your winning ability by playing the maximum coin.
While it is the expectation of every player to get free spins and bonus games, Ace of Spades comes with none of these options. However, you are assured of not only an interesting game, but also a high payout return percentage. This is what has maintained the game among the best slots by Play N Go. This is contrary to what you would expect from most low technology slots.
The 'Ace of Spades' acts as a wild symbol, whereby if one spade contributes to the attainment of a win, the win is doubled. If two spades contribute to another win, then the result is multiplied by four. Before embracing the game, you need some time to practice if you are new to this game. You can also join different platforms where information about different games is shared and through this you will manage to get awesome tips about playing Ace of Spades.
On payout and stakes, the Ace of Spades has three stake levels. The coin values are fixed at 1.00 and you have the ability to play from 1 to 3 coins in every spin. Playing one or two coins, you are able to win 800 or 1600 respectively.
Upon reaching the maximum winning combination of 2500 coins, you are given an extra 100 for spinning at that point. Ace of Spades is an interesting game that will always make your day better while increasing your chances of winning.