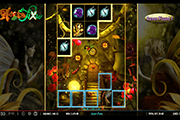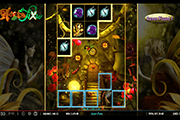 Acorn Pixie Online Slot: Random Wild Symbol Additions in Base and Free Plays
Acorn Pixie online slot by Bally/SG Interactive furnishes 30 paylines built on a standard 3 x 5 grid. The number of paying lines increases to 50 during free games, since the bonus round runs on a special 6 x 5 grid. Images of different fairies land as elements to match on any payline. Two of which represent the Wild and the Bonus Game trigger-symbols.
To increase chances of landing on spin outcomes with one-of-a-kind winning arrangements, this game comes with a Wild Additions feature. Occurring arbitrarily during paid spins, the feature transpires when the Fairy Wild lands as a huge image occupying a block of two x two tiles. The win-boosting Wild supplements also happen in the free games. On every bonus spin, a special Acorn Symbol transforms one or more tiles into Wilds that stay sticky throughout the bonus round.

Acorn Pixie Online Slot: Wild Symbol and Wild Additions Feature
The base game reels produce regular totems of Pixie Wilds as substitute icons. When one or more converge with identical symbols within a payline, the Pixie Wilds can pose as alternative symbol to complete a one-of-a-kind win.
Yet when 2, 3, 4, or 5 of the Wild Fairy line up consecutively starting from the first reel, the longest grouping garners a cash reward amounting to 0.20x, 1x, 10x, or 20x the Total Bet. The Wild Additions feature makes it possible for Acorn Pixie players to hit Wild Pays.
Wild Additions occur in base games whenever the animated version of the Pixie Wild land on an arbitrary grid position. Once in place, a huge 2x 2 image of the Pixie representing the Wild Symbol, will bring a Cluster of 4 Wild Symbols; all capable of performing substi-actions.
Although Wild Additions also occur during free games, Bally added a special Acorn Symbol to constantly carry out the execution of the feature on every bonus spin.
Acorn Pixie Online Slot: Free Games and Wild Tree Feature
To set off a round of seven (7) free games, players must land on three (3) Bonus Symbols in Reels 2, 3, and 4. Such an event occurs only after a paid spin, which means every round plays a set of 7 bonus spins only.
Now a free bout plays on a 6 x 5 grid that contains two layers. The top layer presents icons that turn with every reel spin. A second layer underneath presents a pretty backdrop, depicting a Wild Tree in which the Pixies live. The picture comes into view gradually through the workings of a special Acorn Pixie Symbol.
Wild Tree Feature – The entire second layer of the 6 x 5 Bonus Grid constitutes 30 Wild Symbols in all. Any Wild Tree portion revealed, can perform substitution actions as Bonus Game Wild.
Acorn Pixie Bonus is also a Wild Additions feature that transpires every time a segment of the Wild Tree background comes into view.
On each free turn, one or more Acorn Symbols land on the reels to remove a first-layer image. That way, portions of the Wild Tree will be revealed. The Acorns though will start working on the bottom row going upwards. As the free games continue, larger portions of the Wild Tree background will be in sight, gradually filling the Bonus Grid with Wilds