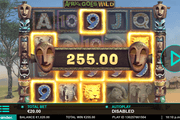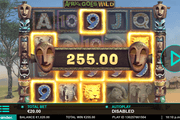 Africa Goes Wild Online Slot: 2 Random Base Game Bonus Events Plus Free-Spins w/ 2x Wild Feature
Africa Goes Wiid is a Leander Games online slot configured with 2 win-boosting events and a free round with 2x Wilds. Alignments of identical images do not have to follow a pay pattern. A convergence of 3 or more alike elements, need only to occur in adjacent reels starting from the farthest left. Wild Symbols sometimes appear; likely to create an impact by completing a matched arrangement by way of substitution.
Complement that Wild feature with a random "Animals Go Wild" event. The latter arbitrarily selects an Animal token to transform as Extra Wild. Players may also experience a Wild Symbol with a 2x Multiplier. Although they have to advance to the bonus stage in order to benefit from its win-boosting impact. When playing a free round, collecting Golden Lion tokens, will unlock an array of bonus features.
Free-Spins Bonus Symbols though are  elusive, as they takes positions only in Reels 1, 3 and/or 5. Still, there is another base game event that may give players a chance to complete the Bonus Round trigger-combination.


Africa Goes Wild Online Slot: Wild Symbols
A Regular Wild, a random Extra Wild and a 2x Wild Symbol transpire in this game. Regular Wild and 2x Wild tokens, take positions only in Reels 2, 3 and/or 4. Extra Wilds on the other hand, may emerge in different spots; but depending on the result of the "Animal Goes Wild" event.
Regular Wilds are represented by the Africa Goes Wild Logos.they are available as outcomes of base game spins only. Mainly because Logo Wilds will be replaced by 2x Wild Symbols, once the play levels up to the free-spins stage.
2x Wild Symbols replace Regular Wilds as eligible substitute icons during bonus bouts. When forming part of a winning combination, the 2x Multiplier doubles the related bonus payout.
Extra Wilds may be any of the 5 African Animals selected by the "Animals Go Wild" feature. Emerging as Golden Animal versions, they replace the regular images of their counterpart animal likenesses: serving as Extra Wilds to the outcome of the spin that triggered the bonus event.
If 2, 3, 4 or 5 of the Golden Animal Wilds properly complete a win-way, the longest combo formed, correspondingly draws 10, 50, 100 or 300 win-credits.
Africa Goes Wild : Golden Lion Free-Spins and More
Grayscale Lion images labeled as Free-Spins are icons exclusive to Reels 1, 3 and 5. A paid spin returning with at least one Grayscale Lion in all 3 Reels, activates 10 Free-Spins. Once two (2) Grayscale Lion tokens are present in any 2 designated reels, a random "Animal Stampede" may transpire.
Animal Stampede
This is an arbitrary event occuring when 2 Grayscale Lion images are already in view. A horde of animal images animate, rushing across the slot screen. A cloud of dust temporarily obscures the current screen display. As soon dust clears, the event may or may not result to the addition of a 3rd Greyscale Lion.
Golden Lion Collection Bonuses
Aside from the 2x Wild, the bonus around also comes with Collectable Golden Lions that emerge only in Reel 5. Each Golden Lion in view fills up Bonus Counter, to award one win-boosting feature at a time, in the following order:
Counter 1 awards 3 additional Free-Spins
Counter 2 adds 1 Extra Free-Spin
Counter 3 installs a 2x Win-Multiplier applicable to Total Bonus Winnings.
Counter 4 activates the "Animals Go Wild," whilst allowing the featured Animal Extra Wild to lock in place for the remaining free rolls. To optimise this reward, this Africa Goes Wild bonus feature, throws in 2 additional Free-Spins.