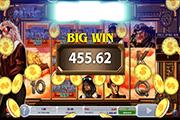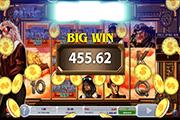 Agent Valkyrie Online Slot: Hunt Down Big Wins via Agent Valkyrie's Wild Reels, Flying Wilds and Capture Criminals Features!
Agent Valkyrie is an online slot created by 2×2 Gaming for Microgaming's online and mobile platforms. Built with 25 paylines in a 3×5 grid, the play runs on a storyline about a Lady Bounty Hunter and 3 notorious Criminals. Players benefit from Valkyrie's hounding activities, since her plane can bombard reels with Wilds in 3 different ways. As her plane flies across the playing field, it may add Wild Reels, Flying Wilds or turn Criminal icons into Wilds.
Players though earn those Extra Wilds by way of a Coin Collection feature during base game spins. In free rounds, bonus round players have a free hand in selecting a game type. One awards a random Wild Feature for the entire bonus session. The other type allows players to distribute all Wild features as enhancements to corresponding numbers of turns within a bonus round.


Three (3) most wanted Criminals award the highest bounties when 3, 4 or 5 of their respective icons land as payline combos. A winning one-of-a-kind grouping though must commence from the leftmost position of a payline. An Older Male Criminal comes around as the highest payer among his gang; doling out 30x, 75x or 600x the coin value staked as Line Bet. A tough-looking Female and another Male cohort have the same range of Paytable Valuess: 25x, 60x or 200x.
Agent Valkyrie Wild Symbol
The Agent Valkyrie Game Logo emerges on reels as Wild element. Naturally configured as Stacked Wilds in a single reel, they may emerge in part or in full as Stacked Symbols.
More Wilds may appear once the Lady Bounty Hunter applies her win-boosting skills on the grid. After all, multiple Wild icons in place not only improve chances of hitting multi-payline wins. They also heighten possibilities of striking high-value Wild combinations.
A payline formation of 3, 4 or 5 Wilds, starting from the leftmost of a paying line, commands high payouts: 40x, 100x or 1000x the Coin Bet staked per line.
Agent Valkyrie's Win-Boosting Wild Features
The following win-boosting Wild Features may transpire on reels once certain requirements are met.
Wild Reels – After completing a spin, Valkyrie's plane flies over one or more columns and turns them into Wild Reels.
Flying Wilds – During an ongoing spin, the Red Plane passes through the play area, and leaves behind Wilds that will land on random positions.
Capture Criminals – Agent Valkyrie's perseverance pays off when she spots one or all Criminals in view. All Criminal elements currently displayed by the reels will be placed behind bars and subsequently transformed into Extra Wilds.
The Base Game grid unlocks them via a Coin Collection feature. Free Rounds on the other hand, may be endowed with one or all Wild Features; albeit depending on a player's choice of Bonus Round.
Agent Valkyrie Online Slot: Base Game Coin Collection
Take notice of the Coin Boxes on top of Reels 2, 3 and 4. Every Coin Token emerging in each reel works toward completing a set of 3 coins as Reel Collection. Any reel completing a coin collection unlocks a Wild Feature that brings on Extra Wilds to the current spin-outcomes.
Reel 2 Coin Collection awards the Wild Reels Feature
Reel 3 Coin Collection bestows the Flying Wilds Feature
Reel 4 Coin Collection unlocks the Capture Criminals Feature.
Once a Wild Feature has been awarded and the related wins evaluated, the Coin Box that awarded the feature resets to its original state.
Agent Valkyrie Free Games
A Golden Compass represents the Scatter element that can set off a round of free games. A scattering of 3, 4 or 5 Golden Compass images anywhere across the base game grid, correspondingly activates 7, 11 or 15 bet-free spins. Plus, an instant bonus win equal to 1x, 3x or 5x the current Total Bet will be awarded.
The bonus round starts by presenting players with 2 gaming missions: Choosing one establishes the Wild Feature enhancement/s that will boost players' chances of hitting Big Bonus Wins.
Accept Awarded Mission is a bonus round in which a single type of Wild Feature (Wild Reels, Flying Wilds or Capture Criminals) will transpire during the free bout.
Create Own Mission – In this round, all three (3) Wild Features will be available. Players will have a free hand in deciding the number of spins in which a type of Wild Feature will transpire. Here, Agent Valkyrie will provide players with a Tabulation Sheet to use in creating their own bonus game mission.
Golden Crystal Symbols may still appear in both types of missions. This time though, only one Golden Compass may emerge as outcome of a bonus spin. Yet each appearance adds one (1) Extra Free-Spin.