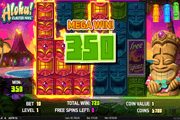 Aloha Cluster Pays Video Slot – Win Big from Innovative Cluster and Drop Symbol Features
Aloha Cluster Pays online video slot by NetEnt is a no-payline betting game presented in a 5-row, 6-column reel configuration. The game offers elements and mechanisms aimed at bringing the most advantageous spin outcomes via the Cluster Pays and the Drop Symbol Mechanism.
Those mechanism works in combination with win-boosting elements such as Stacked Symbols, Symbol Substitution Feature and/or Sticky Win Respins. Online casino players therefore can expect to experience a truly rewarding real-money entertainment.
Aloha Cluster Pays Substitution Symbols
Substitution Symbols (SS) appear arbitrarily, whilst configured as full-reel Stacked Symbols. If a reel returns with only a portion of the Stacked SS in view, only that portion of the Substitution Symbols can perform icon-replacement actions. The SS feature works toward the completion of winning matched-symbol groupings in accordance with the traditional leftmost or first-reel origination-rule. The Stacked SS whether completely or in part, also helps players win Cluster Pays from identical symbols positioned next to each other in any row or column.
Actually, the SS carries out substitution actions only if the ensuing symbol-transformation will create a win or greater win occurrence/s. In the event that the entire set of reels returns with only Substitution Symbols in place, all SS elements will transform into the highest-paying symbol, which in this game is the Red Mask icon.
Aloha Cluster Pays Feature and Sticky-Win Respins
A cluster of nine (9) or more reel symbols in any position across the reels earns Cluster Pays in accordance with the game's Paytable. Inasmuch as the Red, the Green, and the Blue Mask icons tend to appear as large-sized images occupying two tiles in one reel, any of those Stacked Mask Symbols count as two icons in the base game.
However, in the Free-Spins Round, the Stacked Masks count only as one symbol. Mainly because the base game and the bonus game reels have different game mechanics. During base game play, the Cluster Pays mechanism works in conjunction with the Sticky-Wins Respin feature.
The Sticky-Win Respin Feature – This special base game feature occurs at random, and often as a result of a Cluster Win. The activation of this feature though is not possible if the reels produce more than one kind of winning Cluster Symbols.
In the event that a Sticky Win (SW) Respin does launch, all winning Cluster Symbols remain glued to their position while the rest of the non-cluster icons launch a respin. If the reels return with more winning Cluster Symbols, subsequently creating a larger grouping of matched-symbols, the Sticky-Win Respin feature continues. The respin actions could go on and on for as long as the clustered group of symbols increase in size after each respin, or until the entire set of reels have been filled with the winning Cluster Symbols.
Aloha Cluster Pays Free-Spins Bonus Game
This Bonus Game becomes accessible to Aloha Cluster Pays players whenever three (3) or more of the Free-Spins Tickets appear scattered across the reels. The numbers of bet-free spins awarded depend on the number of Free-Spins (FS) icons that initiated the bonus game. Three FS Symbols garner nine (9) bonus spins, while four (4), five (5), or six (6) FS icons trigger 10, 11, or 12 bonus spins accordingly. The number of spins may still increase since a + 1 Free Spin may come around as spin outcome.
As mentioned earlier, the Aloha Cluster Pays Free-Spins Bonus Reels run on a different game system, which NetEnt simply calls as Symbol Drop Mechanic.
The Symbol Drop Mechanic – is a mechanism that automatically discards all low-paying symbols. The goal is to give bonus game players greater chances of earning higher amounts of bonus rewards from the top-paying Mask Symbols. The removal process starts after the second (2nd) bonus spin and completed by the eighth (8th) spin, leaving the reels completely devoid of all Flower, Shell, Coconut, and Pineapple Symbols.
If on the ninth (9th) bet-free spin the reels do not return with winning groupings of same color Masks Symbols, NetEnt's Aloha Cluster Pays video slot will award one (1) Extra Free-Spin.
Aloha Cluster Pays Video Slot by NetEnt is Simply Incredible!
Aloha Cluster Pays video slot from NetEnt is simply incredible as the features incorporated all aim to deliver highest potential wins, making recreational slot gambling all worth a player's while and money!