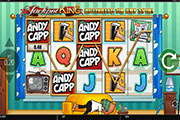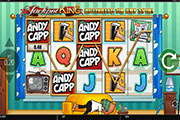 Andy Capp Online Slot: Collect Big Wins from Andy's Dreams and Adventures
Andy Capp is an online slot adaptation of a popular comic strip that has seen years of publication in a top UK daily. In order to portray Andy, Blueprint Gaming used images and special features depicting his penchants and habits in a 20-payline content.
Occasionally, a habitually sleeping Andy will have dreams that bring multiple identical images or even an Extra Wild; likely resulting to huge payouts on paid spins. Players will have greater winning advantage if they get to wake Andy Capp.
That way, he can carry on with the Andy's Adventure Bonus Round. He will be visiting his favourite haunting grounds; whilst giving players a chance to collect big wins via respins, free-spins, or pick bonus games.


Andy Capp Online Slot: Hungover Reel Modifiers
Constantly and typically sleeping the hours away, Andy's hungover dreams may bring any of the following Reel Modifiers during a paid spin:
Dream Women – Dream clouds float over the reels, subsequently revealing a Mystery Symbol. After which, another dream cloud appears, to possibly project Andy's Dream Women. If an image of a Beautiful Woman emerges, the revealed Mystery Symbol will receive upgrades. However, if Andy's wife Flo appears instead, the upgrade feature ends.
Colossal Ale – An enormous Ale image appears on screen, occupying 3 rows of 3 adjacent reels. The Colossal Ale spins with the other reels, to potentially reveal any reel element, including the BONUS symbol.
Andy's Wild Dream – Special Andy images with a pair of two buxom women will be randomly added to the reels as Extra Wilds.
Andy Capp Online Slot: Free Games
Three (3) Bonus Symbols simultaneously occurring in Reels 1, 3 and 5 will give Anyd Capp reason to rise from his slumber. Andy takes a walk and later enters one of his favourite haunting grounds. The chosen spot determines which of the following bonus games will set off:
The Jolly Riveter Super Spin – This is a free spin in which every highest paying Andy Capp Logo will increase the default 1x Win-Multiplier. If a player wishes to vie for a greater Multiplier value, he or she may click on the Beer Tap to take another free-spin. Still, a player may opt to play safe by collecting the current Super Spin winnings. After all, there is no guarantee that the next spin will produce more Andy Capp icons; or for that matter, produce even one.
The Boozer Free Spins consist of 10 bet-free turns that play for 40 paylines. Here, a Wild Symbol emerging after each bonus spin will likewise be collected. At the end of the free-bout, a Last Order bonus spin takes place, while all Wild icons collected take random positions across the grid.
On Me 'Ead Free Spins is a bonus game without a predetermined set of free-spin to award. All Wilds emerging during the round are Sticky. During ongoing bonus spins, Andy Capp pitches a football. If he succeeds in throwing the football over the net, then all Wilds in view stay sticky. However, if Andy fails to hit a goal, he stands to receive a warning, then a yellow card, and lastly, a red card. Once Andy has been slapped with all three cards, the bonus round ends.
The Bookies Bonus – A bonus player receives 3 bet slips which they can pick to establish the amount they wish to place as bets. After which, he or she will pick from an array of rosettes to reveal a Multiplier. However, If the icon reveals a Collect prompt, this pick bonus game ends instantly. If otherwise, a player will proceed to the next pick stage, and select 3 Trophies. The value revealed will increase the Multiplier further, resulting to a greater Bonus Win.
Lets Play Darts Bonus – Andy Capp throws three (3) darts at the dart board. Each number that Andy hits is a Bet Multiplier. The total value of the Dart Board Numbers on which Andy's darts landed, will then multiply the current Bet. The sum of all Multipliers won, has potential to bring as much as 180x the stake that launched the bonus-triggering spin.