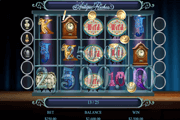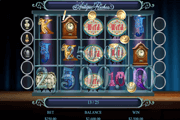 Antique Riches Online Slot – Collect Antiques to Qualify for Bonus Spins with Extra Auction Wins!
Antique Riches is a charming 5-reel, 25-payline online slot that offers bonus wins by collecting timeless and valuable items.  Genesis Gaming uses the antique collecting and selling fascination as theme in delivering a delightful game.
Here, players win not only from matched-symbol combinations but also from trading highly esteemed antique items. During the game, images of a Portrait Bust, a Vintage Doll, a Gold Teapot, a Violin, a Ship Model and more, come into view as either reel icons or collectible items.


Players win from the standard play of landing identical-symbol groupings in any payline. A winning payline combination comprises at least three (3), and up to five (5)-of-a-kind objects at the most. Also, combos must originate from the leftmost or first column. To help players win more frequently or in multiples, a Wild Symbol arbitrarily appears as outcome of a spin.
Antique Riches Logo Wild Symbol
A Wild emblem presented as a decorative plate, is usable as substitute for purposes of completing a payline win. Wild Symbols emerge in any row or column. It may appear as a single tile or as a 3-tile high Stack of Wilds in a single reel.
Wild Symbols can substitute for all reel symbols except for the Silver Tray inscribed with Antique Riches Logo.
Antique Riches Online Slot – Bonus Game Trigger Symbol
The Silver Tray with Antique Riches inscription is a Scatter Symbol. It pays 1x the Total Bet if at least one (1) of such totem appears anywhere across the reels.
After any spin, two Silver Tray icons, one in Reel 1 and another in Reel 5 produces an object that will go to the Antique Collection shelves located on both sides of the screen. Completing the first set of five (5) collectibles will trigger the Antique Valuation Bonus Game. Collecting all ten (10) will initiate the launch of the Free-Spins Game.
Antique Riches Online Slot – Antique Valuation Bonus Game
This special game segment is basically an instant-win Pick Me exercise. Fifteen (15) objects representing collectibles of great value will be presented as choices. Bonus Game players can have as many picks as possible, for as long as the object selected reveals a Valuation Price. The prices revealed represents the instant-win coin rewards that will be awarded as bonus wins.
Not unless, the object selected will reveal an item that does not have a corresponding auction price; or will reveal a COLLECT prompt. In both instances, the Antique Valuation Bonus Game ends.
Antique Riches Free-Spins Round and Auction Bonus Wins
First off, all matched-symbol payline combinations occurring in the Free-Spins Bonus Game will be evaluated both ways. This denotes that one-of-a-kind symbol groupings appearing as matched payline combinations and originating from the rightmost or the 5th reel, also qualify as wins.
Ten (10) bet-free spins will be awarded as bonus game play. During the bonus round, players can reap rewards not only from matched payline combos, but also from selling the antique items previously collected.
Auction Bonus Wins Every time a Silver Tray Antique Riches Scatter Symbol appears in any position across the bonus reels, an item collected will be sold off at an imaginary auction sale. The auction sale value per item is equivalent to the Total Bet placed on the triggering spin.
The greater the number of Silver Tray Scatter icons appearing as outcomes of a bonus spin, the more auction rewards added as bonus wins. Moreover, selling all ten (10) collectibles during the round will bring 10x the Total Bet as final bonus reward.