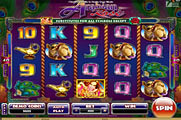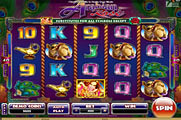 Arabian Rose Slots for Fun
Are you ready for an awesome Arabian themed experience, have you ever wanted to travel to the mesmerizing Arabian desert? If the answers are yes, and yes, then you are in for a treat through this Microgaming designed slot machine. This wonderful game, Arabian Rose, gives players the chance to travel to the Arabian desert. Enjoy truly unique gameplay and experience all of the entertaining aspects of the Arabian desert.


One of the Best Slots for Fun
Symbols that appear on the reels and lines of the video slot machine are inspired by the beauty of the desert. This is why players will see a wild Arabian princess, a camel, a golden magical lamp, an Arabian rich prince, a red flower, peacock feathers, and card symbols. Players would be able to view all of the different rewards that these symbols can give as well as the special features by opening the pays table of the game. This table can be viewed by clicking on the Pays button.
The Wild Princess is the biggest paying symbol of the video slot machine as it can give players an award that can amount up to 20,000 coins. The Wild Princess does not only give big rewards as it also substitutes for other icons to help players get paid while doubling any payouts that it helps in creating. It will not substitute for the scatter red flower icon.
Arabian Rose Bonus Rounds
The pays button is found under the reels at the control panel of the game. Apart from the pays table, the other buttons at the control panel of the game include the betting options that players will choose from so they can determine how much they want to place in wagers for each spin. There is also the AutoPlay feature in which players will select a bet and a number of spins and then they can sit back and watch the reels as they spin. They can also stop the auto spins at any time by clicking on Stop.
The scatter red symbol gives scatter rewards while triggering the Pick me Coin bonus. The amount of scatters, as well as the number of coins, depends on the number of scatter flowers. 3, 4 or 4 scatters will give payouts of 800, 8000 and 80000 coins and trigger 3, 4 and 5 coin picks respectively. Players will then click on these coins in order to reveal the rewards that they have in store for them. The rewards include multipliers and up to 7 free spins with the ability to earn more free spins during the gameplay. You can get to know more details about the feature at its dedicated page at the payouts table.