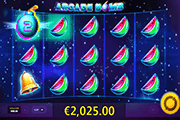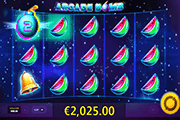 Arcade Bomb Online Slot: 4 Reel Bombs Place Identical Symbols According to Blast Patterns
Arcade Bomb is an all-ways-win online slot into which developer Red Tiger configured 20 paying lines. Three, four, or five-of-a-kind symbols can form winning combinations whether starting from the leftmost or rightmost reel, or even from the center reel. To further boost chances of landing on payline wins, this game has a Reel Bomb feature that infuses identical symbols in specific areas across the grid.
During an ongoing spin, symbols disappear whenever a Reel Bomb explodes; but are then replaced with a single type of reel element. Symbols are traditional slot machine contents such as the Number 7, a Bell, a BAR, and an assortment of fruit images. The Number 7 awards as many as 100, 2500, or 1000 credits when 3, 4, or 5 converge in consecutive positions of a payiline. The Bell ranks second in terms of Paytable values, with its coin rewards of 50, 125, or 250. The BAR comes next, with its medium pays of 25, 150, or 125 coin credits.


Although the fruit images are low-win symbols, they are the most likely to appear as matching symbols after a bomb blast. Watermelon, Strawberry, Orange, Lemon and Cherry icons often appear as post-detonation identical replacements. Coin wins garnered through those symbols range from 5 to 50.
Arcade Bomb Online Slot: Reel Bomb Feature
Four (4) color-coded Reel Bombs can come into play during a spin. Once a bomb lands as outcome of a spin, it locks in place for 5 consecutive spins; whilst counting down the number of spins pending its detonation. Once a countdown ends, the Reel Bomb explodes and blasts away existing symbols lying within its explosion pattern. That same pattern will then be filled with identical icons. Such an occurrence will more than likely result to one or more winning combinations, in light of the all-ways-win feature.
Distinguished by Yellow, Blue, Green, and Pink hues, each Reel Bomb follows a pattern by which existing symbols disappear and replaced with one-of-a-kind images. Any Reel Bomb positioned in an explosion pattern, will likewise detonate. A concurrent explosion of more than one Reel Bomb is a boon. After all, such an event increases the number of available reel positions into which alike symbols will land.
Arcade Bomb Online Slot: Reel Bomb Blast Patterns
The explosion patterns followed by each Reel Bomb are as follows:
Yellow Reel Bomb – This Arcade Bomb detonates in a straightforward vertical path; simply blasting away the two (2) other symbols positioned in the same reel.
Blue Reel Bomb – This bomb explodes horizontally, blasting away the two (2) symbols connected to its immediate left and right side. Three adjacent positions in a row will then fill with identical images after an explosion.
Green Reel Bomb – The explosion pattern of this explosive brings on up to five identical symbols. Following a cross-like pattern (+), the one-of-a-kind icons altogether land on an entire reel and on the middle right and left sides of the same reel.
Pink Reel Bomb – This bomb follows an X blast pattern, removing all visible symbols in two (2) intersecting diagonal lines.
However, if a Reel Bomb explodes in Reel 1 or Reel 2, or for that matter, in Row 1 or Row 2, only the visible positions of the blast pattern fill with identical images.