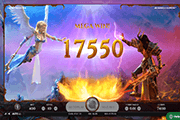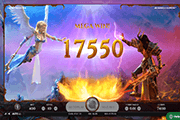 Archangels Salvation Online Slot: Battle of Domination between Heaven's Soldier and Hell's Minion
Archangels Salvation online slot by NetEnt depicts a battle for domination between an Archangel and a Hell's Minion. Presented via 6 reels, containing 12 rows of varying symbols, the huge set up also contains as many as 100 paying lines.
Both the Archangel and the She-Devil are configured as full-reel images; appearing partly or entirely visible in any reel. Every segment of those icons act as single units that can complete winning combinations in any paying line. A set of 3, 4, 5 or 6 Archangel or Devil tiles, aligning as a matched grouping, correspondingly garners 6, 15, 40 or 150 coin credits. A winning arrangement though must start from the leftmost position of a payline.


Actually all symbols, except the "S" Scatter icon, emerges as partial or full stacks of alike symbols in a single reel. Wild Symbols, on the other hand, have 3 configurations: 1×1 Wild, 2×2 Wilds or 12x 6 Wilds. The 2×2 Wild icons are rare because they take positions only in Hot Spot Areas.
Yet when they do, the event activates either the Heaven, or the Hell Feature. The occurring feature depends on the Hot Spot Area on which the 2×2 Wild landed.
Hot Spot Areas (HSA) refer to two sets of (2) marked rows. When the game advances to the free-spins stage, the number of HSA rows increases to three (3.)
• The first Hot Spot Area covers the first two, or first three top rows. The Heaven Feature sets off, whenever a 2×2 Wild lands on this HSA.
• The second HSA covers the last 2, or last 3 bottom rows. Conversely, a 2×2 Wild landing on bottom row Hot Spots, activate the Hell Feature.
Archangels Salvation Online Slot: Heaven and Hell Features
Heaven and Hell Features add additional Wild Symbols to the outcome of a spin that produced the HSA 2×2 Wild:
Heaven Feature replaces symbols in 2 or 4 random reels, with Stacked Wilds. if only half of the 2×2 Wild is visible in Hot Spots, only 2 reels will be replaced with Stacked Wilds. It follows that when the entire 2×2 Wild is in view. four reels will be replaced with Stacked Wilds.
All symbols, including the "S" Scatter may be replaced with Wild units. in the event Stacked Wilds get to cover one or more "S" Symbols completing a Scatter Combi, the latter will still take effect. The Wild-enhanced reels will first be evaluated for payline wins, before the grid launches the free games.
The Heaven Feature may retrigger, if any portion of the added Stacked Wilds lands on a Hot Spot Area
Hell Feature adds 8 up to 16, 1×1 Wild Symbols in random positions across the grid. If any of the single tile Wilds land on a Hot Spot, the Hell Feature adds 4 more 1×1 Wilds. Similarly, a Wild may land on a Scatter icon without affecting the latter's ability to complete a winning Scatter combo.
In case a single spin activated the Heaven and Hell Features simultaneously, the Wild additions transpire as single and separate events. The Hell Feature plays out first with its random 1×1 Wilds, and the resulting wins evaluated accordingly. After which, the Heaven Feature will send Stacked Wilds to replace symbols in arbitrary reels; including those previously added by the Hell Feature.
Archangels Salvation Free Games
The "S" Symbol that sets off the free round is built as a 2-tile high icon. Despite the special size, an "S" totem counts only as 1 bonus-triggering symbol. Moreover, the "S" Scatter will no longer come around as outcome of a bonus spin; indicating that a bonus round plays only once, in between base game spins.
Three or more "S" Scatters landing on any spot across the play area, activate a corresponding set of free games. A scattering of 3, 4, 5 or 6 "S" icons, awards 10, 15, 20 or 25 free-spins, respectively.
Hot Spot Areas in the Archangels Salvation Free Games are broader as each zone will comprise 3 rows; starting from top or the bottom reels.