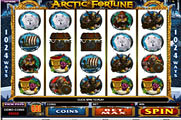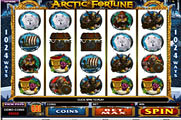 Arctic Fortune Slot Machine
Get ready for a one of a kind experience with this Microgaming video slot machine, Arctic Fortune. This game will take players to the Arctic North Pole in order for them to search for the fortunes and the treasures that are found within. Players will be sent back in time to the era of the Vikings who used to live up north. These Vikings were known for two things, the first thing is that they are vicious and powerful warriors who used to raid other cities, the second thing, they were rich from all of the loot they collected from their raids. This is why players will go on a trip to the Arctic at the time of the Vikings in order to join them in their raids and claim their own share of the fortunes that they will grab.
1024 ways to win Slot Machine
The game has a unique setup of 1024 ways to win, so instead of having a small number of paylines, players will have 1024 different chances of winning. These ways to win are scattered across the 5 reels that the game offers. As for the icons that will appear on those reels, they are all inspired by the theme of the game as they include the logo of the game, a Viking ship, a Viking axe, a Viking shield, a white dire wolf, a treasure map, Viking warriors and more.
The logo of the game which comes on top of a Viking shield is the wild icon of the game. This means that when the logo of the slot lands anywhere on the reels, players will have a higher chance of claiming a win as it will substitute for any of the other icons (except other bonus and special icons) in order to help players form a winning combo of symbols on the ways to win of the video slot machine.
The Scatter treasure map has the ability to trigger the bonus round of the game. This will happen when players manage to get at least 3 scatter treasure map symbols on the reels of the game. They will get to earn up to 40 free spins on the video slot machine that can come with a multiplier that can amount up to 6x. Players can earn a reward of 9000 coins through this amazing free spins bonus feature.