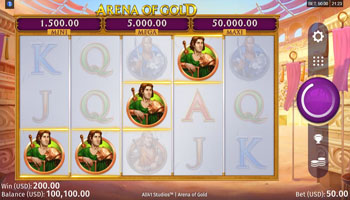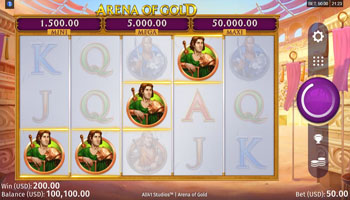 Arena of Gold: For Glory or Death and Rewards!
Arena of Gold is a Microgaming slot machine, through its collaboration with All41Studios. The slot game invites you to travel to Ancient Rome and meet some of the bravest warriors to ever step into the Arena of Gold, the Coliseum. These warriors fought to the death, for glory and freedom. You will get your chance to enjoy the action while claiming plenty of rewards. Arena of Gold comes packing plenty of winning opportunities and bonuses, including 25 lines, free spins, wilds, and more. Arena of Gold is available on numerous devices and different operating systems. Therefore, you can enjoy it on tablets, mobiles, desktops and laptops alike.
What is the Slot all about?
The slot is all about the Coliseum and its brave warriors, the Gladiators. During the golden era of the Great Roman Empire, deadly games took place at the Coliseum. Warriors and slaves would fight each other and deadly animals for glory, death, and freedom. We all remember great movies such as Gladiator by Russell Crow. Microgaming invites you to join four of the strongest gladiators in the Arena of Gold, and the Roman Emperor in an action-packed video.

Slot Visuals and Symbols
Visually, the slot machine is well-done. You will see that the reels take place in front of the sandy floor of the Coliseum, which is the battlefield where the gladiators fought. You will also see the cheering crowd, who are looking for bloodshed on the field. As for the icons that will spin across the reels, they include four gladiators. Each one comes in a colorful costume, and using a fine selection of weaponry. Other symbols include poker card symbols, from As to Js, as well as the Roman Emperor, the Coliseum, and golden coins. The visuals are vibrant, and they help create the engaging experience that the slot has to offer you. Get ready to enter the Coliseum. You will hear the cheers of the crowd, while these gladiators fight for freedom or death.
Wagering Range and Payout Percentage 
You can control the wagering options by clicking on the coin button at the control panel on the right side. The betting range of the Arena of Gold is between 0.10 and 50 credits for each turn. The max reward is 2500x the stake. As for the payouts, the slot has an RTP of 96.2%.
Bonus Features and Unique Symbols
The Roman Emperor:
The emperor is the wild symbol of the slot machine. He can substitute for all other icons on the reels, except the Scatter Coliseum and the golden coins.
The Scatter Coliseum:
The Coliseum is the scatter symbol, which can trigger the scatter rewards and can also trigger the free spins round. You can claim five free spins that come with Big Symbols that can trigger massive payouts.