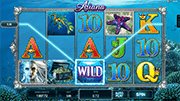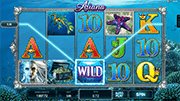 Ariana Slot Machine
Ariana is a brand new Microgaming release for May 2015. The game features a beautiful mermaid, some killer treasure, super Wilds and a lot of other good features. Notably, players can wager up to more than $1000 per spin. This is typically not the case for most online slots and not typical of most online casinos. The setting being active is completely dependent on the casino's discretion. One confirmed high wager feature being set is at Jackpot City Casino.

Slot Machine's Game Play
The game has 5 reels and a skill stop. Having played over 2000 slots both online and offline, it should be mentioned that this is not a true skill stop feature. It is barely responsive and there is a good amount of time after clicking the stop button for the game to respond in kind.
The graphics in the Ariana slot game are not very flashy, more subdued and clean. Overall this is a very very good showing from Microgaming and highly playable. The Ariana Symbol acts as the wild. Treasures are high paying common symbols followed by the coral reef, seaweed and Queen, King, Jack and Ace symbols.
In the example video that was created for this game, 3 cycles of $2000 demo credits was played. In a matter of around 5:53:00 all of the demo credits were depleted with no substantial wins to mention. Since this is the first time playing the game, it may just be tighter on the wins at higher wagers. This version of the game is set to $125 as the max bet.
Check out the Video below or play the game for yourself.