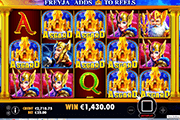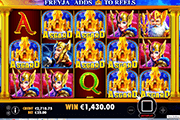 Asgard Online Slot : Four (4) Asgard Divinities Enhance Base and Bonus Games with Reel Modifiers
Asgard online slot by Pragmatic Play presents four (4) Asgard divinities as high impact elements in a 25-payline set-up. Odin, Freyja, Thor and Loki not only appear as top paying symbols. Each character symbolizes a reel modifier. Odin adds Wild Reels while Freyja sets off a downpour of single-tile Wilds. Thor replaces Royal Symbols (A, K, Q, J and 10) with Wilds, while Loki fills reels with one-of-a-kind elements via Mystery Symbols.
During base game spins, any of the four (4) reel enhancements may transpire to change the outcome of a triggering spin. Once a game advances to the bonus round, any one of those features, may be awarded as constant win-boosting element of a free bout.



Three, four or five alike images or symbols, aligning from the leftmost position of a payline, is a win. Odin's image is the highest paying icon. It correspondingly awards a cash value equal to 15x, 75x or 250x the amount staked as Line Bet. Freyja, Thor and Loki award medium pays ranging from 15x to 200x the Line Bet, with Freyja as the highest earner among the three (3).
Yet the most significant rewards can be garnered via the Wild Symbol. After all, it is a special element that not only acts as joker card. It can also form a winning combination at the same time.
Asgard Online Slot : Wild Symbol
In Norse mythology, Asgard is home to Odin's Valhalla. This game's Asgard depiction, occurs as the Wild Symbol. When aligned with a group of identical images in any payline, the Wild may expand or complete a winning arrangement.
At the same time, if 3, 4 or 5 Asgard Wilds also converge as alike contents of a paying line, winnings will include payouts for the longest Wild Symbol combo; 25x, 100x or 500x the current Line Bet Value.
Opportunities for hitting Wild wins are great. Odin, Freyja and Thor's reel modifiers, add multiple Asgard Wilds to reels. Loki, on the other hand, may randomly decide to enhance reels with multiple Wild icons through his Mystery Symbols.
Asgard Online Slot : Random Base Game Reel Modifiers
At any time during an ongoing spin, any of the following events may transpire:
Royal Symbols Replaced by Wilds – Thor imposes his might on the reels, by hammering down every A, K, Q, J and 10 in view. After which, he replaces the hammered symbols with Wilds.
Stacked Wild Reels – Odin strikes the grid with powerful bolts of lightning; transforming one or more random reels into full Stacked Wilds.
Mystery Stacked Symbols – Loki the Trickster God creates illusions by way of Stacked Mystery Symbols. Once Loki's green mist clears out, the stacked special icons reveal a single type of Asgard element. Mystery Symbol revelations may include Asgard Wilds, but exclude the Winged Helmet Bonus Symbol.
Raining Wilds Freyja's essence as Goddess of Love envelopes the grid, as a way of adding 3 up to 5 Wild Symbols in random spots.
Asgard Online Slot : Free Games
A round of Free Games transpire whenever a trio of Winged Helmet Bonus Symbols land simultaneously on reels.
The Bonus Feature commences by spinning the titles of all four (4) Random Reel Modifiers: "Royals Transform to Wilds," "Stacked Wild Reels," "Stacked Mystery Symbols" and "Raining Wilds." The moment a bonus feature has been established, five (5) Free-Spins rollout as Bonus Round.
Outcomes of each free-spin will then be enhanced by the reel modifier pertaining to the activated Bonus Feature.
Any set of Free Games though runs only once on every bonus game session.