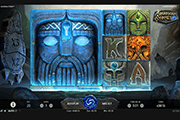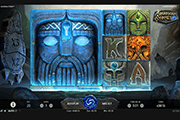 Asgardian Stones Online Slot: Colossal Icons and Bonus Wheel Boost Payouts in Avalanche of Wins!
Asgardian Stones is a NetEnt 20-payline online slot in which winning symbols create more opportunities for striking additional hits at no extra costs. Driven by a mechanism called the Avalanche Feature, the latter removes winning symbols, whilst dropping the non-winning elements to the bottom of the grid. Inasmuch as icons drop rather than spin with each play, the fresh batch will take on the open spaces at the upper portions of the reels.
Although the Avalanche Feature is not something new to most modern video slots, NetEnt makes a difference by incorporating Colossal Symbols. Huge Blocks of identical icons can result to a Colossal Crush event. The latter feature is akin to a respin that brings on new images without having to place additional bets. Its more compelling trait is that it also spawns a +1 increment to the default 1x Multiplier. If the Colossal Crush destroyed symbols in more than one row, the number of rows affected multiplies the 1+ increment.
In addition, NetEnt added a Colossal Bonus Wheel. When appearing as outcome of a spin, or of an Avalanche Feature, it awards either Coins Wins or Free-Spins. Even more awesome is that the Bonus Wheel prize may still increase to 2x or 3x; as determined by the number of rows occupied by the special 3×3 icon.

Asgardian Stones Online Slot: Colossal Symbols
All elements, except the W Symbol, may appear as 2 x 2 or 3 x 3 Block of images during Base and Bonus Spins. The W icon, being the Wild Symbol, takes on a colossal form only during free games.
The significance of the Colossal Symbols is that they have the ability to crush elements positioned directly beneath its area of coverage. However, this ability takes effect only if the Colossal icon emerges after an Avalanche Feature.
Colossal Crush – A partial or full display of a Colossal Symbol has a crushing effect even if only one symbol is underneath it. If any part of the Giant Image forms part of a winning combination after an Avalanche Feature, then the colossal image will likewise disappear. Otherwise, the crushing actions continue for as long as there are icons underneath the Colossal Symbol; or until the huge icon reaches the bottom, to eventually disappear from view.
A series of Colossal Crushes creates greater winning advantage because every event increases the default 11 Multiplier.
Colossal Crush Win-Multipliers – may increase up to a maximum of x4. A Multiplier Meter keeps track of the Increments during a series of Colossal Crush events. The Win-Multiplier though applies only once and only to the related Avalanche win outcome.
Asgardian Stones Online Slot: Wild Symbol
The W Symbol is the only reel element that does not have a Colossal form during base games. Still, any Wild aligning with identical groupings, or even with a Colossal Symbol can take part in completing a payline win.
In Free Rounds, the W emblem may occur as a Colossal element; but subsequently displayed as several units of 1 x 1 Wilds. The reason behind this is that any unit of Wild icon forming part of a payline win, will disappear. The rest remains in place during forthcoming Avalanche of symbols. The same rule applies to substituting and non-substituting Wilds if the Avalanche carries on continuously.
Asgardian Stones Online Slot: Bonus Wheel Feature
A paid spin, or an Avalance Feature, may bring down a partial or full display of a Colossal Bonus Wheel. This special 3 x 3 element awards either instant Coin Wins or Free-Spins.
Instant Wins are Multipliers of 1, 2, or 5 times the Total Bet. Bonus Spin rewards, on the other hand, may be a set of 5, 10, or 15 bet-free turns. The Multiplier or Free-Spins Rewards can still increase if the Bonus Wheel in view occupies more than one row.
A full-reel Bonus Wheel image therefore, increases a Win-Multiplier or Free-Spin Reward by x3. It follows that a partial Bonus Wheel occupying 2 rows, doubles a reward.
Unlike regular Colossal Symbols, the huge Bonus Wheel disappears only after reaching the bottom reels. Still, it is possible to land on another Colossal Bonus Wheel. Such an event will therefore afford players, another chance to win either a Cash Prize, or another round of Free-Spins.