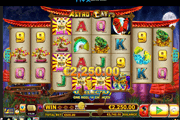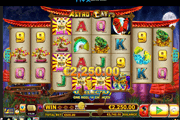 Astro Cat Online Slot: Reelfecta Reel and Cat Wilds Create Big Wins!
Astro Cat online slot by Lightning Box/NextGen Gaming features the developer's proprietary Reelfecta Reel that makes winning big on matched symbols much easier. The game is configured with 1,296 ways with which symbols could land as winning combos. That makes this game even more amazing as it denotes increased chances of hitting multiple wins with a single spin.
Themed after the popular Asian Beckoning Cat, the " Maneki-Neko" comes around as Cat Wild Symbol. This game has a unique 3 x 5 reel-configuration. Reels 1, 2, 4, and 5 are presented as regular columns containing three (3) reel images each. Reel 3 is the Reelfecta Reel, counted as a single reel but with 16 symbols to offer as potential matches to those positioned in the regular reels.
[/CBC]
Astro Cat Online Slot: Reelfecta Reel
The Reelfecta Reel is configured as one huge block comprising 4 rows and 4 columns of symbols or a total of 16 images. Any of the Reelfecta icons are usable in completing identical symbol groupings, or in expanding winning combination/s. However, a Reelfecta Symbol can be used as winning component only once for every spin outcome.
In the Free-Spins Bonus Game, the Reelfecta Reel has greater impact as each of the 16 symbols could turn into a Cat Wild. A Wild Symbol, after all, could stand-in as substitute for any reel icon except for the Bonus Game Symbol.
Astro Cat Online Slot: Bonus Game Symbol
Images of Rocket Fireworks tagged as BONUS appear exclusively within the Reelfecta Reels. However, it emerges only in the outermost positions of the 4×4 block, specifically in Columns 1 and 4, in Rows 1 and 4. Five (5) or more Rocket Fireworks, simultaneously in view in those Reelfecta spots, trigger the Astro Cat Free Games.
In addition, Astro Cat players receive instant coin wins multiplied by the current Total Wager, and based on the number of Fireworks Bonus Symbols that triggered the round. Five (5), 6, 7, or 8 of such symbol correspondingly award 1, 5, 10, or 25 credits. Since the Fireworks Bonus icon could appear in as many as 12 Reelfecta Reel positions, 9 or more appearing simultaneously after a single spin, award instant win of 500x the Total Bet.
Astro Cat Online Slot: Free Spins Bonus Game and Mega Spin
No specific number of bet-free spins will be awarded. The free games will last for as long as a Cat Wild that comes with a "+1 Additional Spin" takes position in the same Reelfecta rows and columns in which the Fireworks Bonus Symbols appear.
Positions are occupied in a clockwise direction, to which the first three are guaranteed to display a Cat Wild + 1 Spin icon. The surefire appearance denotes Astro Cat bonus game players have three (3) guaranteed free spins; possibly more, as each bonus spin may yet produce another Cat Wild +1 spin totem.
However, on the fourth spin and in the fourth position onward, a Poison icon, instead of the CAT Wild + 1 Spin emblem may emerge in any of the designated spots. If it does, the Free-Spins Bonus Game ends. Any bonus wins gained from the round, plus an additional reward of 2x the Total Bet will then be awarded.
On the other hand, a bonus game player who succeeds in filling up all 12 Reelfecta positions with Locked Cat Wild + 1 Spin icons, gets to play the Mega Spin.
The Mega Spin poses as the final spin of each bonus round. Here, the remaining 4 Reelfecta positions transform into a huge block of Astro Cat Wild icon. All 16 Reelfecta Reel positions become Wild Symbols that greatly increase players' chances of hitting one Big Final free-spin win!