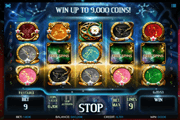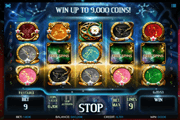 Astro Magic : Zodiac-Themed Online Slot Loaded with Bonus Features!
Astro Magic is a dazzling display of the 12 Zodiac signs presented as reel icons in this iSoftBet online slot. The game is configured with 9 paylines, on which identical Zodiac Symbols land as matched combinations. A Wild Symbol appears randomly in any reel, and its emergence in any payline increases the odds of hitting payline wins.
Big Wins and even Ultra Big Wins may happen, when a spin produces matched groupings of three (3) Bonus Symbols. The related feature triggered by a special icon is guaranteed to bring exceptional bonus rewards!


Astro Magic : Wild Symbol
The Wild Symbol may create, complete, or expand a winning combination by way of substitution actions or by forming its own one-a-kind grouping. Identical Zodiac symbols lined up in the same payline as the Wild icon have great winning potentials. Although the Wild may upgrade or expand a matched grouping of 3 or 4 into a higher paying 4 or 5 win combination, only the highest combo will be counted as payline win. A single Wild is capable of substituting for other identical Zodiac Symbols, if its payline position is connected to other win-line positions.
Two, three, four, or five Astro Magic Wild Symbols forming a payline win, correspondingly award 2, 10, 100, 500, or 1000 coin credits as payout.
Astro Magic : Instant Win Bonus Symbol
A Sun totem may trigger an Instant-Win Bonus Game that awards free-spins, value multipliers, or both. Three or more of such symbols appearing in any reel or row initiates the activation of a Pick and Click Game. All Sun Symbols have hidden prizes, which Astro Magic players reveal by clicking on each icon.
The free-spins will be played after the bonus game, and any value multiplier revealed as part of the Instant Win Reward will apply to all bonus wins gained from the free round. If only value multipliers will be revealed, the sum of all factors unraveled as multipliers will multiply the Total Bet staked on the triggering spin.
Astro Magic : Scatter Symbol
Take notice of another exquisite astral-themed icon labeled as Scatter. The emergence of three or more of those Scatter Symbols in both base and free-spins games will instantly bring Bonus Wins. Two, three, four, or five of the Scatter totems positioned in any row or column, award Scatter Coin Wins of 18, 45, 225, or 1800, respectively. Again, the Total Bet multiplies the coin rewards.
Astro Magic : Galaxy Bonus Game
A unique depiction of the Moon and Sun represents the trigger symbol of the Galaxy Bonus Feature. Three or more of the icon will bring Astro Magic players to a new game panel that simulates a view of the galaxy. This bonus feature may also be triggered during a Free-Spins Round.
The 12 Zodiac signs will be presented at the forefront of the Galaxy game panel. Each symbol represents coin credits that will be awarded arbitrarily. For about ten seconds, the Zodiac signs and their corresponding prize briefly and alternately light up. The amount carried by the Zodiac symbol that lit up last, will then be awarded as Galaxy Bonus. Similarly, the Total Bet that triggered the Galaxy Bonus Feature multiplies the coin credits won.