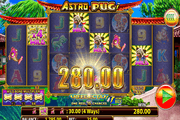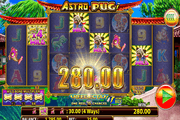 Astro Pug Online Slot : Lightning Box Reinforces Another Win-Ways Game with Reelfecta Feature
Astro Pug online slot is another Lightning Box, 5-reel content reinforced with the developer's proprietary Reelfecta configuration. The latter is an extra large 4×4 centre reel (Reel 3), generating an array of 16 Asian-themed symbols on every spin.
A matching Reelfecta outcome can form part of any of 1296 winning ways; albeit representing only one (1) completing icon on every winning arrangement. Still, if Reels 1 and 2 have different identical pairs, the Reelfecta may contain matching symbols that can complete additional win-ways. A matching Reelfecta element even allows those identical elements to connect with alike icons in Reels 4 and/ or 5, to complete longer, higher-paying arrangements.
Actually, the Reelfecta is only the tip of the iceberg so to speak, as this game has 4 Wild elements that can bring explosive wins. The titular Astro Pug icon is the active Wild Symbol, prone to emerge in multiples, particularly in the Reelfecta column. A second type of wild card, represented by a Bone image yields a 2x, 3x or 4x Wild-Win Multiplier.
The third and 4th kinds are Free-Spins Wilds. A Gold Pug and a Red Pug Wild that occurs only in the Free-Spins Reelfecta. Yet Gold Pug Wilds create greater impact, as they can trigger the ultimate Mega Free-Spin bonus feature.


Aim to land high-value winnings by way of the Chinese Boy image. This icon rewards players with 40, 50 or 125 win-credits on a regular 3, 4 or 5-way win. More, if in case a 2x, 3x or 4x Bone Wild Multiplier combines with a winning Chinese Boy arrangement.
Astro Pug Online Slot Wild Symbols
Although 4 types of Wilds come around as outcomes of a base or bonus spin, they can only act as substitutes for regular reel elements.
Astro Pug Wild – Consider this wild card as a regular substitute icon. It appears against a yellow background in the base game grid, but only in Reels 2, 3 (Reelfecta) and/or 4. Free-Spins Regular Pug Wilds take positions only in Reels 2 and/ or 4.
Bone Wild is an Extra Wild that yields a random 2x, 3x or 4x Wild-Win Multiplier. Bone Wilds though come into view only in Reel 2. When forming part of a winning arrangement, the Multiplier displayed by the Bone image, increases related payout/s.
Red Pug Wild is a Free-Spins element that emerges only in the Reelfecta section. This icon symbolises a +1 Wild prompt that initialises the placement of a Gold Pug Wild in the Reelfecta border. At the same time, a Red Pug Wild also awards one (1) Extra Free-Spin.
Gold Pug Wild is a valuable Free-Spins element as it works toward the activation of the Mega Spin. This wild card though appears only in Reelfecta borders, starting from the leftmost top position. It emerges only at the instance of + 1 Wild prompt delivered by a Red Pug Wild, and locks in place until completion of a bonus round.
Astro Pug Free-Spins Bonus Round with Mega Spin Feature
Bonus Symbols represented by Firecracker images, trigger a round of 12 Free-Spins when 5 or more are in view. This symbol occurs only in all four borders of the 4×4 Reelfecta column. The free round extends by one spin, every time a Red Pug Wild emerges anywhere in the Reelfecta area. The maximum number of extra free-spins awarded per bonus session is 12.
At the end of a bonus round, a Mega Spin unlocks if Gold Pug Wilds fill all four (4) borders of the Reelfecta column. Gold Pug Wilds take one border position at a time; progressing on a clockwise direction, with every + 1 Wild delivered by a Red Pug Wild.
Mega Spin is the special bonus turn awarded, if at the end of a bonus round, Gold Pug Wilds frame the entire Reelfecta column. At that point, the remaining centre position displays a huge 2×2 Gold Pug Wild.