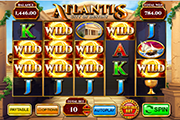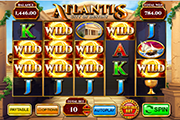 Atlantis City of Destiny : Fortune Awaits Those Who Activate Any 1 of 3 Bonus Games
Atlantis City of Destiny online slot is an Inspired Games creation, released via the NYX/NextGen Gaming platform. The graphic presentation may not be as impressive when compared to the more modern online casino games. Yet, one should not readily dismiss this 20-payline offering based on image illustrations alone. This game abounds with special base and bonus game features, all designed to increase chances of hitting not only  average wins but remarkable wins as well!
During base game spins. a Lady of Atlantis comes forward to enhance the reels in four (4) different ways. Greater fortune awaits those who succeeds in entering the Atlantis Bonus Game. Bonus Wins are achieved by playing a round of Free-Spins with Multiplier, or via Bonus Reels enriched with Wilds. Another bonus game possibility is that of earning instant bonus wins via a trail of Total Bet Multipliers that leads to a Free-Spins Bonus Game.


The Atlantis Title Logo and the Wild Symbols land as top-paying elements. Two, three, four, or five of those icons can bring a cash reward equivalent to 4x, 50x, 200x, or 500x the Line Bet. Wild Symbol combinations are more eventful, since any Wild cell that aligns with identical symbols in another payline have great potential to bring additional payline wins. A Wild Symbol after all is like a joker card that can represent other reel elements, except the Bonus Game Symbol.
Atlantis Online Slot: Bonus Game Symbol
The Atlantis Logo Image represents the Bonus Game Symbol. It is an icon exclusive to Reels 1, 3, and 5 only. A base game spin that lands a Bonus Game in all three designated reels, initiate the presentation of the Bonus Game selection panel.
Atlantis City of Destiny Bonus Game
A map of the game's Atlantis City serves as starting point from which a game mode is selected at random. Configured as a mini bonus game navigated via dice rolls, the mode indicator determines the type of bonus game to activate once the dice rolling actions end.
That being the case, the game board for any one of the following Bonus Game Modes will become accessible:
The Fortuna Spins Bonus Game makes use of a large Fortune Wheel. The number of Fortune Wheel spin is unlimited for as long as the Prize indicator lands on a Number of Free-Spins, a Win-Multiplier, or a Symbol designated to appear as Extra Wild during the free round.
However, every prize wedge landed on transforms into a STOP signage. A Fortune Wheel spin that subsequently lands on a STOP sign ends the bonus game selection process. The aggregate number of free-spins, as well as any Win-Multiplier and/or Extra Wild features won, will comprise the Bonus Game.
The Atlantis Wild Spins instantly awards a set of four (4) bet-free turns. During each bonus spin, the reels will add two (2) Wild Symbols that will linger across the board up to the next spin. The forthcoming bonus spins therefore will always have four (4) guaranteed Wild Symbols as outcomes. A lingering Wild Symbol though may shift to another position during an ongoing spin.
Pathway to Riches Bonus Game is a two-part bonus mode that starts by giving players a chance to collect guaranteed bonus wins, whilst vying for entry to a free-spins round.
Three (3) flights of stairs leading to the top of the temple represent three game levels. Each stair contains Total-Bet Multipliers that earn players cash rewards if the prize indicator lands on one. If the TB Multiplier does not come with a COLLECT prompt, the random selection of the Multiplier continues. Otherwise, a Multiplier with a COLLECT label ends the Bonus Game.
If the Prize Indicator stops on an ARROW-UP Symbol, the game advances to the next Step/Level. The game practically proceeds in the same way as the first level. In the event a lucky Atlantis Bonus-Game player reaches the top, he or she enters either the Fortuna Spins or the Atlantis Wild Spins Bonus Round.
Atlantis Online Slot: Random Bonus Features
Four (4) random events may transpire during base game plays. A Lady of Atlantis appears to add any one of the following reel-modifiers to enhance the outcome of the related spin:
Gigantic Reel -This random feature turns a block of adjacent columns into a huge chunk of 3×3 image. The best outcome is when the Lady of Atlantis places the large icon in the first three (3) consecutive reels. Such an outcome brings surefire payline wins attributable to the sets of 3-identical symbols aligned in succession, starting at the leftmost reel.
Super Bonus Reels Multiple Bonus Symbols are added to the reels; thereby increasing chances of triggering the Atlantis Bonus Game.
Wild Winner – Wilds in massive quantity are added to the reels. The concentration of Wild Symbols makes certain that the related spin will result to a win that awards a prize equivalent of at least 6x the Total Bet.
Winning Streak At no extra cost and no hassle, this random feature simply awards a string of spins that will result to surefire wins.