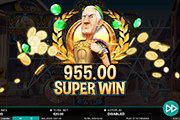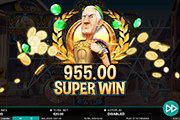 Ave Caesar Online Slot: All Hail to the Roman Dictator's 8 Compelling Bonus Features!
Ave Caesar online slot is a wacky cartoon depiction of ancient Rome's most illustrious military strategist, and later dictator. Leander Games incorporated eight (8) random bonus features that highlight Caesar's colourful political and military career. Every feature creates an impact that will increase chances of hitting wins via the 20 paying lines offered by the game.
Caesar's image is the all important Wild Symbol. It can represent any regular-paying reel element if to complete a payline win. Yet if Caesar Wilds converge appropriately as winning contents of a paying line the longest combination occurring per line garners a high pay. Two, three, four, or five Caesar Wilds, command a cash reward equal to 5x, 100x, 400x, or 1000x the amount wagered as Line Bet.


Ave Caesar Online Slot: Bonus Features
Bonus features may trigger at random or set off via a set of 3 Bonus Symbols. Any can also be won as one of Caesar's Bonus Rewards.
The Ave Caesar Feature
This occurs when a Caesar animation appears to command the presentation of six (6) Parchments. Players will then pick one to reveal a Bonus Feature. They may opt to play instantly by hitting the Collect Prompt; or vie for a more advanced type of game via the Bonus Game Gamble.
Bonus Game Gamble is an option taken by banking on the skills of an archer to hit a specific Bonus Target. However, players deciding to gamble their bonus reward, immediately forfeits their right to play that particular reward.
If the Archer succeeds in hitting an alternative Bonus Game, then that feature will run. If the gamble fails, players will still receive a consolation prize.
The Bonus Trigger Symbol
Bonus Symbols furnish another way of winning a Bonus Feature. The icon takes position only in Reels 1, 3 and 5. If all three reels return with a Bonus Symbol, Bonus Targets will reveal either a single-spin bonus feature or a certain type of guaranteed-win Bonus Game.
The Bonus Gamble segment offered by the Caesar Feature is available; giving players the same gamble options for improving a Bonus Reward.
The array of available bonus features include:
Caesar's Conquest – This is a Pick Bonus Game in which Caesar visits one of the camps, with hopes of chancing upon a pretty lady. Caesar stops on a set of 3 Tents and picks one. If a pretty lady comes out of the chosen tent, a happy Caesar enters and later proceeds to another set of Tents.
The picking activity continues for as long as each selection reveals a desirable female. A tent revealing Hannibal or other not so desirable images, will end the bonus game.
The Roman Empire Bonus is a segment that depicts Caesar's invasions. Players will choose a territory which Hannibal's Legionnaires will invade. The invading forces though will weaken as every incursion will take away a number of Roman Soldiers. The Bonus Game ends immediately if Hannibal's troops have been wiped out totally.
Glory of Rome Free-Spins Round awards 10 Free-Spins in which Caesar Wilds become Sticky elements; but only for several spins. This segment also awards an Extra Bonus Spin every time the +1 Free-Spin icon comes into view.
Druid Free Games – This Bonus Round determines the number of Free-Spins to award via a boiling Druid Cauldron. During the free round, Sticky Wilds, Moving Wilds, 2x Wild Multiplier, and/or Extra Wilds may enhance the outcomes of Druid Bonus Spins.
Random Bonus Features
More random events bring a reel modifying feature to boost chances of hitting extraordinary wins. On any spin, certain characters in the likes of Hannibal, a Centurion or a Gaul land as an on-screen animation that sets off a related modifying feature.
Hannibal's Heroes are Elephants that will cause the grid to tremble. Their entrance comes with an intensity strong enough to bring down and add Multiple Caesar Wilds to the outcome of the related spin.
The Gaul Feature is an event in which huge rocks will be thrown at an aggressive Gaul. Fortunately for players, the rocks will hit random positions that will bring a significant symbol transformation. Once the rocks have been removed, the affected tiles will reveal a single type of alike images.
The Centurion Maximus Feature brinsg down a huge 2 x 2 or 3×3 Pennant to cover a portion of the grid. The Pennant will subsequently reveal a randomly selected Colossal Symbol.