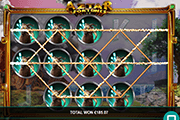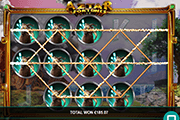 Aztar Fortunes : 3 Action-Packed Bonus Events May Lead to Big Wins!
Aztar Fortunes online slot by Leander Games, introduces Aztar, a new jungle-based action icon. At the same time, the developer infused 25 paylines on which elements organise as winning combinations. Aztar can drive wins to those paylines by triggering a Respin filled with one-of-a-kind Beast images. Actually, this Aztar Fortunes game is full of exciting events that transpire in a Trail Bonus Game, and in Free-Spins Bonus Rounds.
During free games, this new breed of jungle lord shoots at beast images; any that gets hit will turn into Wilds throughout the free bout. There is another side to Aztar that will be revealed during any spin. Aztar, as it turns out, is a Centaur; sometimes passing through as a half-man, half-horse image. It is a curse though; and the cure that can break the hex is a Magical Crystal hidden inside a Minotaur's Cave. In the Magical Crystal Bonus Game, slot players help Aztar make his way through the caves, in order to obtain the crystal cure.

Aztar Fortunes Wild Symbol
The Aztar icon labeled as Wild, comes into view from time to time. When aligned with identical images in the same paying line, his presence can complete a winning arrangement. If Aztar himself organises winning combinations using his icons, the longest of a 2, 3, 4 or 5-symbol arrangement earns players 5, 50, 100, 500 coin credits.
Beast Symbols can become Wild Symbols during bonus bouts. Any Beast that gets hit by an Arrow, empowers Aztar to designate the Beast as special Wilds during a free round.
Aztar Fortunes Online Slot: Shoot the Beast Feature
This is a Respin Feature that may activate via paid or free spins. While a spin is ongoing, a Beast may walk in to attack the Aztar figure standing beside the grid. Instinctively, Aztar slays the beast to set off a Respin.
Images of the slain Beast occurring as outcomes of the spin, lock in place during the free turn. Greater still is that more of the Beast icons will be added to the reels before the respin comes to a stop.
Aztar Fortunes Online Slot: Magical Crystal Bonus
This special segment is a Trail Game that sets off when Reels 2, 3 and 4 altogether display a Crystal Bonus token.
Participating players accompany Aztar inside the Minotaur's Cave and help the cursed jungle master reach the Magical Crystal. The paths through which the Centaur runs has obstacles that may prevent him from attaining his objective. Still, he can overcome each obstacle by using the right Arrow.
Aztar Fortunes slot players engaged in this bonus game, must help by choosing the Arrow that can clear the path. If the obstacle disappears, a bonus player will receive a reward, while the Centaur will advance to the next path-level. However, a wrong Arrow may bring out the Minotaur who will capture Aztar to prevent him from going any further. An imprisoned Aztar signals the end of the bonus game.
Yet if Aztar succeeds in breaking the hex, Aztar Fortunes players involved in achieving the feat will receive as much as 48x the Total Bet.
Aztar Fortunes Online Slot: Beast Hunter Free Spins
If a spin produces three (3) Arrow Symbols simultaneously positioned in Reels 1, 3 and 5, ten (10) Free-Spins are set to follow.
Here, Stacked Arrow Symbols may emerge in Reel 5. If any of the four (4) Beasts are in view when Arrow Symbols appear, the aforementioned elements may become Wild Symbols throughout the round.
Should the Beast in view has Arrow Hit Spots that match the number of Arrow icons in Reel 5, then the struck element will emerge as Wild until completion of the Bonus Game.