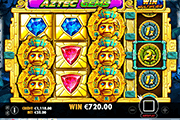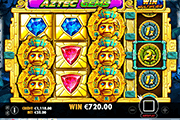 Aztec Gems Online Slot: 3-Reel, 5-Payline Play with Multiplier Reel
Aztec Gems online slot is a Pragmatic Play 3-reel, icon matching game that comes with a Multiplier Reel. Every spin produces a Multiplier via the 4th Reel. The latter spins independently, but coincidently with the first three columns. Once the reels settle, appraisal of winnings will take into account the Multiplier landing on the framed section of the 4th Reel. All winnings garnered thru a single spin, may increase by 2x at the least, or up to 15x at the most.
Reel elements are an array of Gemstones commonly used by ancient Aztecs in adorning their jewelcraft. The larger sized Gems represent the top paying icons, while those presented in smaller sizes pose as lesser paying symbols. All elements are set as Stacked Symbols in every reel. They may land either in part, or entirely as stacked icons.
The large Ruby is the highest paying Aztec Gem; awarding 20x the amount staked as Line Bet. Yet the icon that could bring the highest return is the Wild Symbol. Aside from having capability to represent any symbol, it can also form a winning arrangement.


Aztec Gems Online Slot: Wild Symbol
A golden carving of an Aztec Chieftain represents the Wild Symbol. Any Wild that aligns with identical images along a payline can stand-in as alternate, if to complete a winning arrangement.
Three Wilds landing simultaneously on all 3 reels is a win, if they fill a paying line. The combination garners a reward equal to 25x the Line Bet value.
Aztec Gems Online Slot: Multiplier Reel
The 4th Reel contains only Win-Multiplier values, between 1x up to 15x. It rolls concurrently with Reels 1, 2, and 3. The Multiplier that lands on the framed section of Reel 4, will then apply to all related win outcomes.
Aztec Gems Online Slot: Betting Options
All five (5) paylines (3 horizontal and 2 diagonal lines) are active during each spin. This denotes that in order to launch a spin, a corresponding bet must cover each paying line.
The range of betting choices available is extensive. Aztec Gems players have the option to stake as few as 1 coin, or up to as many as 10 coins on each payline. The selection of values to assign as coin bet, is anywhere between 0.01 to 0.50. A spin may launch with a minimum bet of 0.05 (0.01 x 1 coin x 5 paylines) or higher, up to a maximum of 25.00 (0.50 x 10 coins x 5 paylines.)
Payouts though are based on the Bet Value staked per Paying Line, not on the total amount wagered to launch a spin. A winning Wild combination for one, pays 0.25, or 25x the 0.01 Line Bet of a 0.05 Minimum Bet. If struck by way of a 25.00 Max Bet, it awards 125.00, which is 25x the 5.00 Line Bet (0.50 x 10 coins) of a 25.00 Max Wager.