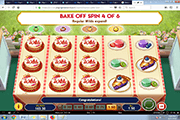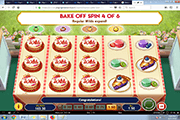 Baker's Treat Online Slot: Collect Cakes to Trigger Flour Power and Bake Off Free-Spins
Baker's Treat is a 15-payline online slot, which PlayNGo configured with 15 paylines. This game evaluates winning combinations occurring both ways. Those that start from the leftmost, as well as the rightmost reels. An array of baked goodies may land aligned as matched groupings in any payline, and bring lucrative returns. The Strawberry Sponge Cake is the highest-paying reel display; awarding 30x, 120x, or 600x the coin bet, on 3 or more that align as a winning combination.
Actually, the baker has lots more to offer as treats. Any Cake icon can also trigger respins via the "Flour Power Feature." Take notice of the Cake Tokens appearing above each reel, as they are Cake Collection Markers for a specific type of "Flour Power" respins. Now, if all 5 reels return with a display of its related Cake Symbol, a round of free-spins will activate. All win-boosting attributes powering up every Flour Power type are bound to occur during the bonus bout.

Baker's Treat Online Slot: Wild Symbol
Another important baked goody is the Wild Cake, which may emerge in any reel. As a substitute symbol, the Wild Cake can represent any of the bakeshop products displayed by the reel. The important thing though is that Wild/s and the identical images must be positioned in the same payline.
As a regular icon, the Wild Cake can also form winning combinations. An alignment of 3, 4, or 5 Wild Cakes along any payline, awards the same payouts as the highest-paying Strawberry Sponge Cake. In a round of free games, hitting Wild Wins are likely. Mainly because the bonus grid carries all "Flour Power" attributes; including those that bring additional Wild Cakes to the reels.
Baker's Treat Online Slot: Flour Power Feature
This special segment awards 3 Free-Spins when activated. Activation though requires collecting a set of 3 Cake totems.
The Cake Collection Activity involves five (5) Cake Symbols. Each of which have a set of Markers positioned above a designated reel. In order to light up a Cake Totem Marker, its assigned reel must return with a full stack of the corresponding Cake icon. Illuminating all three (3) Cake Markers in between spins will then activate the Flour Power related to the collected Cake Symbol.
Flour Power Features activated by reels are as follows:
Cupcake Power activates via Reel 1. A full-reel stack of Cupcake icons must therefore appear in this reel in order to light up a Cupcake Marker. When activated, the brief free-spins bout will run on a grid containing a pair of synchronised reels positioned next to each other.
Blueberry Power sets off if all three (3) Blueberry Markers above Reel 2 have been highlighted. The brief bonus bout guarantees the occurrence of one Wild Reel on every free spin.
Carrot Cake Power turns all Carrot Symbols into Wilds. Lighting up all Carrot Markers above Reel 3 will trigger the Carrot-to-Wild transformations during the mini bonus bout.
Lemon Cheesecake Power launches a grid that automatically expands all emerging Wild Symbols. This Flour Power activates by completing the set of Lemon Cheesecake Markers in Reel 4.
Strawberry Sponge Power – Turning this feature on via Reel 5 will spur the transformation of all low-win Macaron icons into a single Macaron type.
Baker's Treat Online Slot Free Games
Now if all five reels return with a display of their corresponding Cake Specialty, a round of free games transpires. If any of the reels comes up with a full stack of its Cake Symbol, an additional Bonus Spin will be added; making it possible for players to win up to 10 free games.
During the free bout, all Flour Power Features are active. Any Bonus Spin therefore may produce an outcome in which a Wild Reel and/or two (2) synchronised Reels will be in place. Additionally, all Carrot Symbols may turn into Extra Wilds, while only one type of low-win Macaron will emerge. Moreover, any Wild that emerges as outcome will expand to cover an entire reel.
An Extra Baker's Treat of 80x the Bet will be awarded if the Free Round activates during a Flour Power Respin.