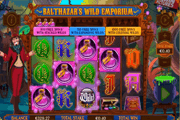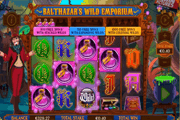 Balthazar's Wild Emporium Online Slot : Massive Free-Spins with Wild Power Ups plus Random Bonus Features
Balthazar's Wild Emporium is a 20-payline online slot with a Bonus Feature that awards as many as 500, 750, or 1000 free-spins in a single round. Players can earn the massive number of bonus spins by either landing 5-of-a-kind Special Vials, or by playing the Free-Spins Gamble. Any number of bonus spins activated, presents great opportunities for winning. After all, OpenBet incorporated special Wild Features that can enhance the outcome of any bonus spin.
Wild Symbols are significant not only as substitute icons that help complete payline wins. On its own, two, three, four, or five Wilds aligned in a payline pay 2x, 10x, 200x, or 500x the Line Bet. Players can also count on Balthazar, to help them land a win. Free of charge, the emporium owner randomly applies any one of five (5) special potions that magically turns a non-winning outcome, into a win-event.


Balthazar's Wild Emporium Online Slot: Free-Spins Bonus Round
Three (3) Special Vials pose of trigger-symbols in activating powered-up free games in massive numbers.
• The Pink Vial awards 500 free-spins played on reels configured with Stacked Wilds.
• The Blue Vial awards 750 free-spins played on reels enhanced with Expanding Wilds.
• The Gold Vial awards 1,000 free-spins played on reels containing Colossal (2×2) Wild Symbols.
A spin outcome displaying a five-of-a-kind combination of those Special Vials instantly awards the promised number of free-spins. However, since this is a game of chance, players can expect to spend time and money before they land a 5-symbol combo of a Special Vial.
Balthazar's Wild Emporium offers a Free-Spins Gamble Feature, as alternative method for winning the entire lot or even some free-spins.
Balthazar's Wild Emporium Online Slot: Free-Spins Gamble Feature
The Free-Spins Gamble Feature becomes accessible when at least two-of-a-kind Special Vials land on Reels 1 and 2. Depending on the color of the vial setting off the feature, a certain number of bonus spins will be awarded.
Players can gamble all, or some of the spins received to vie for more same-color vials to complete the 5-symbol combination. Each gamble allows a player to spin the reels and by chance land on a matching Special Vial in Reel 3 up to Reel 5. Any saved free-spins will then constitute the free round after playing the free-spins gamble. However, the maximum number of spins awarded by each vial can be won, only if a player gambles all bonus spins received.
Still, players have the option to Collect all and play the entire lot as bonus round. After all, if the first gamble does not produce a matching vial in Reel 3, the gamble feature ends.
Yet if Reel 3 reel returns with a matching vial on the first gamble, a greater number of free-spins will be awarded. Players can continue the free-spins gamble under the same conditions and options. Lucky gamblers who staked all spins, and eventually succeeded in completing a 5-symbol Vial combination, received the massive number of free-spins corresponding to the winning bonus symbol.
Balthazar's Wild Emporium Online Slot: Random Bonus Features
The random bonus features that Balthazar adds to the reels in order to produce guaranteed wins include the following:
Potion Wilds – Extra Wilds or Colossal Wilds modify the non-winning outcome to ensure positive results.
Snake Eyes – The losing spin-outcome shuffles in a snake-like manner, rearranging symbols in order to produce a winning combination.
Dr. Burns – Dr. Burns' potion will set symbols on fire in order to produce a win.
Magic Respin – The potion simply triggers a respin guaranteed to bring at least one payline win.
Déjà Vu – This special formula rewinds the reels until the outcome displays a potion symbol.