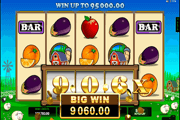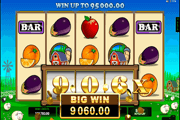 BAR BAR Black Sheep 5 Reel Version of the Microgaming 3-Reel Classic Online Slot
BAR BAR Black Sheep 5 reel version, brings the highly popular Microgaming 3-reel classic slot to an entirely new level. The game now uses a 3-row, 5-column slot grid, while featuring 15 paylines into which an assortment of farm-themed icons may fall as winning matched-symbol combinations.
The reels are now in vibrant living color, displaying images of different farm elements. A Barn, an Apple, a Corn, an Eggplant, an Orange, and a Watermelon, all adds a splash of color to the screen. The Black Sheep and the BAR symbols though are still in their grey scale shading, while their special combination, is still capable of bringing around a significant win-boosting 3-digit multiplier.

BAR BAR Black Sheep 5 Reel Special Bonus Feature
A BAR + BAR + Black Sheep combination occurs only in paylines 1, 2 and 3. The same arrangement of two (2) consecutive BAR symbols followed by a Black Sheep icon remains in play, but triggers a different bonus feature. The combination though does not have to start from the leftmost or first reel, for as long as the grouping is within the said paylines. Each of the three (3) significant icons will be replaced with a multiplier factor, and subsequently spins to reveal a 3-digit value multiplier.
The bet value placed per payline will then be multiplied by the multiplier factor.
The BAR BAR Black Sheep 5 Reel Wild Symbol
In this new edition, the Game Logo serves as the Wild Symbol. It can be used as substitute to complete a payline win if it lands on the same payline as the potential matched-symbol groupings. However, the Logo icon cannot be used as stand-in symbol for BAR and Black Sheep icons if for triggering the BAR BAR Black Sheep Feature.
Still, the game pays for Logo Wild Symbols that fill up any payline. Cash prizes are as much as 100.00, 1,000.00, 5000.00, and up to 20,000.00 respectively, if a Max Bet spin produced 2 up to 5 Logo Wilds in a payline. It follows that prize amounts are lower if lower bets were staked on the triggering spin.
The BAR BAR Black Sheep 5 Reel SCATTER Symbol
The Bag of Wool labeled as Free-Spins represents the Bonus Game Scatter Symbol. As such, it denotes that the icon could land in any position across the 5-reel configuration. Two (2) up to five (5) Bag of Wool icons earn Scatter Pays of 150.00, 300.00, 1,500.00, or 15,000.00, albeit likely to change if activated with a lower bet per spin. To initiate the Free-Spins Bonus Round, the segment requires at least three (3) or more Bag of Wool icons.
The BAR BAR Black Sheep 5 Reel Free-Spins Bonus Round
Once the required trigger conditions are met, the game activates a set of 10, 15, or 20 bonus spins accordingly. During the free-spins round, all winnings, except those related to the BAR + BAR + Black Sheep bonus combo, are paid threefold (3x).
To give players more opportunity for hitting triple-paying wins, the Bag of Wool icons continue to appear as spin outcomes. This makes retriggering the free round possible for BAR BAR Black Sheep bonus game players.