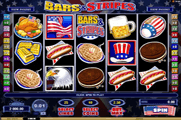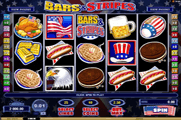 Bars and Stripes Free Slots Review
Here is a slot machine that Uncle Sam would have been proud of. Bars and Stripes is a video slot for anyone that loves America and it will most certainly not disappoint anyone. With a pair of exciting symbols and special features, there are good chances of winning. Bars and Stripes attracts even with a top prize of 50,000 coins!
Technically, Bars and Stripes a free slots game with five reels, three lines and 25 different paylines. Thus, it is a game with more playable lines than in normal software provided by Microgaming. This slot machine has 25 paylines, there are many different combinations to win, something we hope you appreciate as a player.
The symbols in the Bars and Stripes slot game should be easy to guess. Here are hamburgers, hot dogs, American footballs, eagles and much, much more. It being an Americanized slot, it really becomes apparent as soon as we start spinning the reels.
There are several settings you can use to play with a coin that fits your wallet. Example, you can use the eight different coin values ​​and ten different levels of betting. This combined with the ability to choose how many lines you want to play at the same time makes it easy to customize an appropriate response. Normally it is always recommended to play on all paylines simultaneously (Max Bet).
There are a few special features on the Bars and Stripes slot game that are worth keeping an eye on. We are including a wild symbol in the form of Bars & Stripes logo. This symbol serves as a wild-card replacement but can also provide benefits on their own. Bring up five such symbols in a row, you win 5,000 credits, something also to be mentioned is that if the contribution level is up to ten it pays off 50,000 credits.
Bars and Stripes also has a bonus symbol in the form of an Uncle Sam hat. Three such, regardless of position on the reels, activates a 'point-and-click function to select the hat you believe contains the greatest profit. Here, the benefits can be immense, how about a nice prize of up to 47,500 credits?
Finally, Bars and Stripes also a scatter symbol which brings profit regardless of where on the reels it appears. It is characterized by a football and at least three of these will give you a win based on your total bet in the current game round.
Bars and Stripes is a solid game with nice and colorful graphics, pleasant sound and a great gaming experience. Its access to extra features, of course, raises the score and although this slot machine probably appeals to anyone, fans of the U.S. will most probably get the most enjoyment out of it.