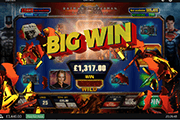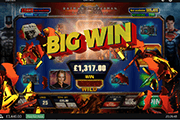 Batman v Superman Online Slot: Collect Bonuses from 2 Free-Spins Super Battles
Batman v Superman online slot from Playtech depicts the storyline of the Warner Bros. 2016 Dawn of Justice movie. Here, both Batman and Superman are Shifting Wilds. They and could meet and clash when their shifting icons land on the same row. Once such an event takes place, Free-Spins in unlimited number will set off, until Batman or Superman emerges as victor.
Another Free-Games Battle with no predetermined number of free-spins is the Dawn of Justice Bonus Round. Wonder Woman joins forces with Batman to keep Doomsday at bay, as the super villain intends to limit the duration of the bonus game.
Playing this 25-payline Playtech online slot also gives online casino players chances of hitting one of DC Superhero Jackpots. Any spin may trigger the Jackpot game, and any amount wagered as bet per spin, qualifies a player to earn such chances.


Batman v Superman Online Slot: Wild Symbols
Batman and Superman Shifting Wilds occur as regular Wilds. They remain visible across the grid but shifts to the next reel on every spin. A Batman Wild travels on a rightward direction, while a Superman Wild travels leftward. They eventually disappear after taking position in the rightmost or the leftmost column.
Doomsday is a special Wild Symbol configured as a full-reel image of the Super Villain from Krypton who succeeded in defeating Superman. Once it emerges in Reel 3 via a paid spin, it sets off the Dawn of Justice Free Games.
The Wonder Woman Wild occurs only in the Dawn of Justice Free Games. Her appearance in every reel is as significant as that of Batman's. Aside from acting as Extra Wild, she can help prevent Doomsday from limiting the number of free-spins that will run during the bonus round.
Mixed Wild Symbol Combination – In the event those Wild Symbols converge in a payline and form a winning payline arrangement, a payout will be awarded on the longest grouping. Three, four, or five of those Wild icons landing as contents of a paying line, award coin credits of 75, 200, or 1250.
Batman v Superman Free Games
On any paid spin, a Batman Wild and a Superman Wild may land on the same row. Such an occurrence will lead the two Wilds to a single reel position, which will trigger the Batman v Superman Free-Spins. This free round will carry on with an indefinite number of bonus spins. The outcome of the showdown between the Superhero icons furnishes the deciding factor that will either prolong, or end the bonus feature.
When players advance to this particular free round, they will have to take sides by choosing Batman or Superman as their Champion. Whoever emerges as winner earns players additional free games. That being the case, the bonus feature ends if one's Superhero choice suffers defeat.
Batman v Superman : Dawn of Justice Bonus Round
At the onset of this free round, a Doomsday Wild Reel takes position in Reel 5. Starting from that position, the Doomsday Wild transfers to the next reel on every free turn. Doomsday's goal is to reach the leftmost reel in order to end the bonus round as quickly as possible.
During the free bout, a Batman or Wonder Woman Wild could prevent the Doomsday Wild from reaching the leftmost column. Any of those two Superhero Wilds emerging on Doomsday's leftward path, will push the Doomsday Wild back to Reel 5. Such occurrences therefore, will extend the bonus round.
Batman v Superman DC Jackpots Game
This Batman v Superman online slot is only one of several DC-licensed Playtech contents that includes the DC Jackpot Game. The latter simply presents players with icons to pick and click, in order to reveal a Color Motif that will fill a corresponding Jackpot Meter.
The Green goes to the Mini Jackpot Meter, while the Blue fills the Minor. The Yellow and the Red Color Motifs, are for the Major and Grand Jackpot Meters, respectively. Once one of the four Jackpot Meters attains completion, the corresponding Jackpot money will be awarded.