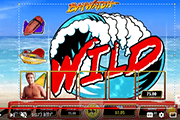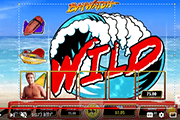 Baywatch Online Slot: Mitch, Cody, CJ and Caroline Work in Teams to Bring Bigger Payouts
Baywatch online slot by IGT showcases four main lifeguard characters of the popular television series that ran from 1989 to 2001. In this game Mitch (David Hasselhoff), teams up with three (3) other lifeguard characters who appeared in later season episodes: CJ, Caroline and Cody. Here, Lifeguard images may appear in pairs. As such, they bring higher payouts when aligning as matched combos in any of the 15-pay patterns.
Teamwork Feature – Actually, the depiction of the teamwork approach on which Baywatch episodes revolved is presented by way of this feature. Those are instances when solo tiles of any two Lifeguard icons can complete winning payline arrangements. Although the feature is arbitrarily active during base game spins, it constantly works as win-boosting element of the Free-Spins Bonus Round.
Another random event that occurs via any spin is the Tidal Wave Feature. Rather than wreak havoc to the reels, an enormous freak wave can expand a Wild Symbol to massive proportions.


Mitch Buchanan and CJ Parker (Pamela Anderson), both represent the highest paying images. As individual icons, three, four, or five of-a-kind groupings of their respective totems award credits of 20, 50, or 100. When featured as a Baywatch team in a single tile, 3, 4, or 5 winning Mitch-CJ images command higher coin wins of 50, 125, or 250.
Although the single-tile images of Cody and Caroline garner lower payouts when occurring as winning combis, their combined Cody-Caroline icon earns the same rewards as the Micth-CJ Symbols.
Baywatch Online Slot: Wild Symbol and Tidal Wave Feature
A simple illustration of a huge ocean wave represents the Wild Symbol. The substitute icon though appears only in Reels 2, 3, and 4. Yet a single Wild Symbol may expand into a Wild Reel and then spread more Wilds toward the rightmost reel. The Expanding and Spreading Wilds are win-boosting elements brought on by the Tidal Wave Feature.
The Tidal Wave Feature surges randomly during any spin, whether paid or free. It starts with a strong wave rushing against a Wild Symbol. The surge subsequently transforms that particular Wild tile into a full-reel Wild. While a spin is ongoing, more strong surface waves may continue to occur, creating a huge Tidal Wave that will add more Free Wilds.
The Expanded Wild Reel will then spread horizontally, and in the process create more Wild Reels on its right. The outcome is likely to be amazing, as the slot screen could end up with a display of an enormous Wild Symbol spanning all four right-side reels.
Baywatch Online Slot: Free-Spins Bonus Round with Constant Teamwork Feature
Take notice of the Bonus Symbol that takes position in Reels 2, 3, 4 and/or 5. In the event a spin returns with a Bonus Symbol display in all three (3) reels, the Bonus Round Menu will come into view.
Bonus game players will then select two (2) Baywatch characters: one male (Mitch or Cody) and one female (CJ or Caroline). The sum of the bonus spins awarded by the icons selected, determines the duration of the free round.
Each Lifeguard also comes with a bonus-win boosting attribute, either More Stacks or More Spins. Once choices have been made, the game proceeds by activating a set of Bonus Reels containing only the selected characters as Lifeguard Symbols.
During the round, the Teamwork Feature is constantly active. That way, the two featured Lifeguard Symbols can merge as winning elements in any payline.