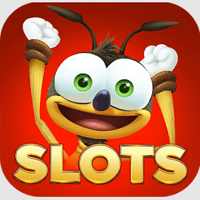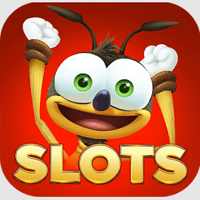 Bee Cave Slots and Blackjack Games App – for Mature Mobile Players
Bee Cave Slots and Blackjack Games app offers slots and blackjack games presented in virtual casino settings and themes. This app though is recommended for mature audience, at least 18 years old and above. The simulated casino gaming environment suggests having drinks to power up one's gaming and perhaps, as a way to project a realistic casino ambience.
Available as a free-to-download gambling app at the iTunes App Store, Bee Cave Slots and Blackjack Games app works compatibly with iOS software Versions 6.0 and up.
Bee Cave Slots and Blackjack App Features
New Bee Cave Slots (BCS) app users arriving at the virtual casino receive not only 5,000 coins as welcome money. They are also welcomed with a complimentary virtual drink. There is a Bee Cave Mascot hovering across the screen, providing players with guides and info about the different features of the Bee Cave virtual casino.
BCS app users can play instantly at Barton Creek casino, either as a guest or as a registered member of the Bee Cave Players' Club. This app rewards club members with amenities and privileges similar to those offered by real casinos. Connecting one's playing account to Bee Cave's Facebook page, allows users to send and receive gifts among friends and acquaintances.
BCS App offers more than just multi-slots mobile software, as the current casino offerings focus mostly on blackjack games. Nonetheless, for those who have unlocked the original slot offerings, Bee Cave Games added several news slots as part of the upgrades released in 2015. Some of the latest Bee Cave Slots' titles include, Hunky Heroes, Carnival In Rio 2, Tundra Wolf, Kitty Riches, Penguin Empire, and Wild Leopard. Still, accessing the new games follow the usual procedure of attaining the game level requirements.
For the blackjack game offerings, Bee Cave Slots app furnishes a set of tutorial games. App users have to pass the tutorial game levels, regardless of their skills as a blackjack player. The idea is to play the blackjack games from the lowest level, and then earn Experience Points (XPs) in order to level up, and eventually unlock other casino-themed games.
A notable feature of a BCS blackjack table is the chat messaging system. Seating five players in each casino table, the app allows the seated players to type-in messages. Apparently, trash talk is allowed, since the app setting includes an option to turn on the trash talk filter if so desired.
Bee Cave Slots and Blackjack Game Features
One of the main attractions of the Bee Cave Slots app is the Social Spin. This particular slot gaming enhancement allows players to receive free spins from players currently performing well in their slots gaming session.
As this BCS app is now offering mostly blackjack games, players receive push notifications for ongoing and upcoming blackjack tournaments. This particular BCS Slots offering has drawn the attention of most app users. The tourneys offer fast-paced gaming action, in which real-life players compete and vie for a share of the prizes at stake.
Using the standard blackjack rules in real casinos, Bee Cave Slots and Blackjack app users find different casino-themes. The blackjack offerings are sorted according to betting ranges. Yet again, players must meet the player-level requirement before they can access the high roller games.