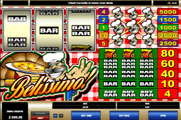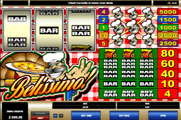 Belissimo Free Slots Review
When it comes down to it, there really isn't anyone who doesn't like some kind of Italian food, so who wouldn't love an Italian themed slot game? Belissimo, which is Italian for "beautiful" is the absolute perfect name for this game. This slot, which is three reels, is primarily composed of Bar symbols, with a few fiery looking 7's that sit in front of a pizza oven.
There is also your Italian chef, who really stands out because he's different than everything else, is really the one you want to land on one of your paylines, since he's the wild symbol. No bonus games, multipliers or scatter symbols means that the Wilds are your best chance of landing a huge win. It's still possible to win big money without them, but more likely with. The jackpot is a good size, up to 5,000 coins, and that is sure to make anyone's day a little more belissimo. In order to claim that massive and tasty Italian jackpot payout, players will have to place the maximum bet of 5 coins, and get 3 of the Italian chef icons on any of the paylines of the game. Of course, getting the chef matched on a payline while placing the 1 coin, 2 coin, 3 coin or the 4 coin bet would still give players great rewards, but not as massive as the 5000 coins jackpot.
The different payouts that the other symbols can give to players if they match it are found at the paytable of the game on the right side of the reels at all times during the game play. The 3 sevens have to be matched, but the bar icons are unique, and they can give a payout even if the three bar icons on the payline are not the same, but of course, it will be higher if players match the same bar icon on the reels. there are the traditional 1 bar, 2 bar and 3 bar icons.

Unlike most other three reel slot games, there are no .01 wagers available. The lowest that you can bet is .25, significantly more than the lowest possible on other games. That shouldn't really be considered an issue though. After all the more you wager, the more money that you can win. Each combination on the paylines increase just by betting a little bit more than the lowest. Sure, you may not be able to play as long, but you'll more than likely end up winning significantly more, even if you only play .25 a spin.