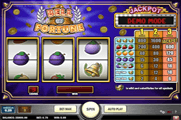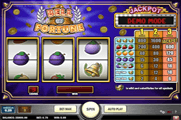 Bell of Fortune Slot is a 3 reel, 1 payline game developed by Play N Go. It is among the most interesting games based on the nature of its interface; the game features a careful selection of graphics for every scene as well as a simple interface that is meant to allow new players to navigate easily. The theme prevalent in the game is based on popular fruits. With Bell of Fortune, you are presented with only seven winning combinations which come with limited wild symbols.
Players who are used to awesome features like free spins and bonuses will have to tolerate their absence in this game. However, despite the absence of these features, you will be able to access three jackpot winning opportunities, where players are able to win the Progressive Jackpot amount if they are playing with all the three coins.

You get a 1600 coins jackpot, which is the second jackpot on playing two coins and finally, you can get 800 coins on playing a single coin. Therefore, your probability of walking away with the top jackpot depends on your ability and efforts.
The coin size is maintained at $0.25 and the maximum bet can go up to three coins. For low stake people, this is the most ideal slot. You do not need a lot of money to play. Also, it is among the best slots for new players as it does not demand for one to hold much experience in the world of slots. The interface makes everything easy for players, both new and experienced.
You will get a wild symbol in this game. The Bell of fortune acts as the main wild symbol and holds the ability of substituting with for all other symbols in the game. Before going online to play, you can access the free mode of the game for practice. You are then free to embrace the paid slot after getting skills that will allow you to bet while playing for money.