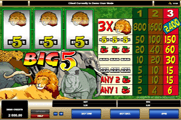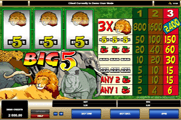 Have you ever dreamt about going on a real African safari to see all the animals, but just don't have the budget for the trip? Well, Big 5 can give you a glimpse into what that is like, all the while giving you the opportunity to win some money to possibly fund your trip. Big 5 gets its name from the five members of the African wildlife that are featured in the background of this game. While the creatures themselves aren't featured all over the reels (since there are only 3 of them), there is a beautiful depiction of a male lion that does appear.
You'll only really see two different bar symbols (a single bar, and one emblazoned with a gold '5'), and the cherries, and the various combinations of these are what will win you the majority of your winnings in this game. The lion, which is also the logo for this game, will win you the jackpot when you get all three on the single payline, but this won't occur very often.

There's nothing on here that will help you win more money, or win faster either. No bonus games, free spins, wilds, multipliers or even scatter symbols. There is only that one pay line also, so you can only win when your symbols line up right across the middle. This isn't as difficult as you may think, however. You can win some small amount just about every spin, and you'll probably hit it big a few times too. The biggest payout that the slot machine has for its players is the jackpot prize, which is equal 2400 coins. since it is the jackpot, players who want to claim it will have to place the maximum bet of 3 coins, they will then need to get 3x of the lion symbols on the payline of the game to trigger it. if they place 1 or 2 coins and get the three lions, they will still earn a good payout, but not as high as the 2400 coins jackpot. Players can find all about the different prizes that they can earn by matching the different icons on the with side of the reels, in the payouts table of the game. it will show the different prizes for each matching symbol, whether players have placed 1 coin, 2 coins or 3 coins.
So get ready for an African wild themed experience with this classic and highly rewarding Microgaming 3 reeled slot machine, Big 5.