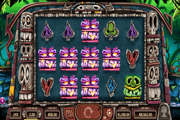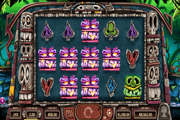 Big Blox – Exciting New Ways to Win via Innovative Large-Sized Symbols
Big Blox online slot by Yggdrasil Gaming furnishes a new kind of thrill when placing bets on the outcomes of a spin. A big block of Aztec totem appears regularly after each spin. In a slot game that offers 243 ways to win on matched-symbol groupings, the Big Block Feature increases greatly, chances of landing on winning combinations. After all, a regular-sized Big Block icon is equivalent to as many as four identical symbols positioned in 2 adjacent rows of 2 adjacent columns (2×2).
One-of-a-kind totems need not conform to pay patterns for as long as they are positioned in consecutive reels starting from the leftmost reel. The game though has no bonus feature to offer in terms or Free-Spins, Scatter Wins or Instant-Win Bonus Games. Nonetheless, a Wild Symbol comes around occasionally to further increase the chances of landing on matched groupings.


Big Blox Online Slot: Big Block Feature
Big Block icons have different dimensions, ranging from 2×2, 3×2, to as huge as 5×3. Although the reels frequently return with a 2×2 image in random spots, there is a chance that a resulting Big Block will expand and cover a larger square or rectangular area.
Big Blox Wild Symbol
The ethnic Wild totem appears only in Reels 2, 3, 4, and 5. When appearing next to adjacent identical symbols, the Wild may complete, expand, or multiply one-of-a-kind groupings.
The Wild Symbol may also appear as a Big Block icon, but never in a reel area that includes the first column.
Big Blox Reel Symbols
The game has four high-paying Aztec Totems, of which the Yellow Tribal icon awards the highest coin wins. Pays of 30, 150, or 400 are awarded accordingly on every 3, 4, or 5 of such symbols lined up consecutively, starting from Reel 1. The Pink, the Green, and the Purple Tribal Totems award coin credits ranging from as low as 15 to as many as 250 coin credits on 3-, 4- or 5-of-a-kind Tribal Totems.
The rest of the reel icons are illustrations of the four (4) card suits. Yggdrasil cleverly presents the Diamond, the Heart, the Spade, and the Clover Symbols in ethnic designs. Of those frequently appearing symbols, the Tribal Heart icon pays the highest; awarding up to 70 coin credits on 5-symbol matches. The lowest paying symbol is the Tribal Diamond, earning Big Blox players 5, 15, or 40 coin credits on 3 or more matched symbols.
Big Blox Betting Options
Each spin requires staking twenty-five (25) coins to cover all 243 ways to win. Big Blox players will then choose a coin value to determine the Total Bet per spin. The coin value offered as betting options are from 0.01 to 4.00. The lowest bet amount that a player can wager as Bet per Spin is 0.25 (0.01 x 25 coins), while the highest or the Max Bet is 100.00 (4.00 x 25 coins).
When it comes to calculating the equivalent cash value of coin wins, the coin value and not the Bet per Spin, multiplies the number of coins received as payouts.