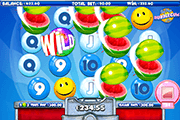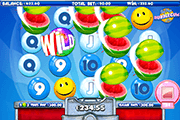 Big Prize Bubble Gum Online Slot: Win via One-a-Kind Gumballs and Unlocked Toy Capsules!
Big Prize Bubble Gum online slot by Incredible Technologies/NextGen Gaming furnishes 1,024 ways by which Gumballs align as winning arrangements. The grid mimics a huge Gumball Machine containing an assortment of Gumballs and Toy Capsules. Every spin serves as mechanism that will cause the colourful contents to roll down and take up new positions. The confectioneries represent regular-paying icons. They award coin credits whenever 3 or more align as a row of one-of-a-kind images starting from the leftmost column.
The Toy Capsules are special icons that award Extra Bonus Prizes, but only during Free-Spins Bonus Rounds. To activate a round of free games, a Big Prize Bubble Gum spin must dispense at least one Free-Spins Token. The greater the value and number of Free-Spins Token in view after a spin, the longer the duration of a bonus round. More Free-Spins also increase chances of collecting Toy Capsule Bonuses and of activating a Pick Bonus Game.


Chances of hitting winning combinations get a boost every time Wild Symbols roll down as grid contents. Wilds after all, can pose as alternative symbols and complete, or expand a coordinated alignment. The multicolored Bubble Gum Wild though occurs only in Reels 2, 3, 4, and 5.
Big Prize Bubble Gum Online Slot: Free Games
Different Free-Spins Coin Tokens may drop down as grid contents via any spin. They display a numeral to indicate the number of bonus spins with which to roll a set of special reels. Triggering the free round also unlocks the Toy Capsule icons that award additional bonus credits.
During the round, more Free-Spins Tokens may emerge and therefore extend the bonus round. The maximum number of playable free-spins is up 100. If by chance the number of Free-Spins amassed reaches the 100 limit, every surplus will instead earn players a 100-credit as bonus prize.
Toy Capsules – contain images of different play things, such as a Rubber Snake, a Yo-yo, a Robot, a Top, a Ring and a set of Building Blocks. Those items unlock and award instant bonuses during free games. The Snake, Yo yo, Robot, Top and Ring correspondingly bestow 50, 100, 150, 125-375, and 750 credits.
Unlocking a Toy Capsule with Building Blocks is the most eventful. Aside from activating a mini Pick Bonus Game called "Pick Until You Pop," it also awards a Bonus Win Multiplier. One, two, three, four, or five Building Blocks simultaneously in view, will accordingly increase the Total Bonus Wins by x1, x2, x3, x4, or x5.
Big Prize Bubble Gum : Pick Until You Pop Bonus Game
In this bonus segment. qualifying Big Prize Bubble Gum players will pick from an array of Toy Capsules. A capsule may reveal a Cash Prize, a Tooth Ache icon, or a Sweet Saver. Cash prizes are all for a player's taking, while a Tooth Ache will end the mini bonus game.
A Tooth Ache though will still give players a last chance respin that may reveal an additional cash bonus or a Sweet Saver. The latter in turn will highlight Toy Capsules from the array, and present them as last Pick Choices.
Again, any of the highlighted capsules may reveal instant wins, or another Sweet Saver. However, it is also possible to reveal another Tooth Ache icon, which at that point will immediately end the "Pick Until You Pop" bonus game.