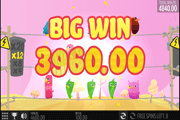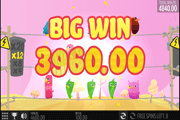 Birds on a Wire – Online Slot with Base and Bonus Game Progressive Win Multipliers
Birds on a Wire (BOAW) online slot delivers a great gaming experience through its use of fresh and innovative features that could spell Big Wins! This Thunderkick slot game has aesthetic qualities that render the reel-spinning motions enjoyable to watch.
Colourful birds in different shapes and sizes swoop down on virtual high-tension wires used as alternatives to slot reels.


Birds on a Wire Online Slot – Dropping Symbol/Win-Respins
It is a pity though that the birds could get electrocuted if a group of three or more identical birds land next to each other and create a payline win. The winning bird symbols will then disintegrate and disappear.
As their disappearance will create gaps, BOAW bird icons from above will land on the positions vacated by the winning symbols. If the fresh set of bird icons and the new position of the existing symbols create another win, Birds on a Wire players will continue to receive coin rewards from matched symbol combos without using a paid spin.
A greater significance of the Dropping Symbol-Respin is the Win Multiplier factor that is activated by a matched combo win. If the bet-free wins occur in succession, the Multiplier factor subsequently progresses into higher numbers.
Birds on a Wire High-Voltage Win Multipliers
Thunderkick integrated two sets of High-Voltage Win-Multipliers; one for Base Game play and another for the Free-Spins Bonus Round
• Base Game Win-Multipliers start at x1, progressing to x2, x3, and x5 at the most.
• Bonus Game Win Multipliers comprise higher numbers, initially with x4, progressing to x8, x12, and x20.
Birds on a Wire Wild Symbol
To help BOAW slot players optimise each spin, Thunderkick added a distinctively big, fat Pheasant to represent the game's Wild Symbol. The Black Pheasant Wild icon can complete a winning combination, and therefore help trigger the activation of the bet-free Dropping Symbols Respins and the High-Voltage Win Multipliers.
If by some stroke of luck, five (5) Black Pheasant Wild Symbols land on the high-voltage wires and create its own winning payline combo, the event will result to a Big Win. The win though depends on the amount placed as bet on the triggering spin, which could be as much 20,000.00 for those placing 100.00 as Total Bet on each spin.
Birds on A Wire Free-Spins Bonus Game
As players carry on with their BOAW slot play, they will come to understand why the flock of birds prefers to perch on the dangerous high-voltage wires. A strange image of a Crate with a pair of eyes tends to position itself in the line-up of BOAW bird icons.
Actually, the Crate is the Bonus Game trigger symbol. Once three (3) Crate Bonus Symbols land on the wire simultaneously as outcomes, the box will reveal a huge Black Cat. The Cat's appearance signals the launch of the Birds on a Wire Free Spins Bonus Game.
Birds on a Wire Free-spins Bonus Game
The initial round of a BOAW free-spins round comprises 10 bonus spins. The round cannot be retriggered but the emergence of any Crate Bonus Symbol will award two (2) additional bonus spins. The maximum number of additional free-spins triggered by the Crate Bonus Symbol is up to 34 for each free-round.
Birds on a Wire Free-Spins bonus game follows the same mechanics as that of the base game play. The only difference is that players will enjoy higher High-Voltage Win Multipliers when winning continuously via the Dropping Symbols Respins.