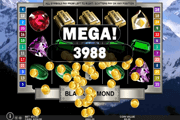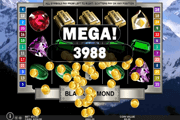 Black Diamond Online Slot: Hit Amazing Wins from Gold Bar Icons
Black Diamond, a 25-payline slot from Pragmatic Play features almost every type of precious gemstones as high-paying reel elements. The Ruby, Sapphire, Amethyst, and Topaz icons award pays even on just two (2) identical images landing on the leftmost position of a payline. The Ruby has the highest pay grade, conferring as many as 6, 60, 600, and up to 6000 coin credits, on matched groupings of 2, 3, 4, or 5 images conforming to a pay-pattern.
The Black Diamond is the headliner, being the Wild card that stands-in for regular-paying icons if to complete a winning combination. Black Diamond wins though are limited to Wild-completed groupings. Actually, the most significant rewards come from the Gold Bars Bonus Symbol, as it could bring epic instant wins just by emerging simultaneously on three (3) specific reels. A piece of jewel craft fashioned out of a Red Diamond is just as important, because two of this totem can instantly activate the Free Games.


Black Diamond Online Slot: Gold Bars Bonus Symbol
This icon is configured as an exclusive element of Reels 2, 3, and 4, only. When three (3) Gold Bars images are on display in all three (3) columns whilst occupying positions constituting a payline, instant coin wins will be awarded right away. The Total Bet, staked on the spin that triggered the Gold Bars Bonus, multiplies the coin reward.
Black Diamond Online Slot: Free Games
The Red Diamond jewel-craft of this game is not as rare as the gemstone it represents. Randomly appearing but frequent, it takes position only in Reels 1 and 5. The occurrence of the symbol in both reels via a single spin activates ten (10) free games.
Black Diamond Online Slot: Betting Options
When staking bets on each spin, there are three factors to consider. The number of coins to stake per line, the value assigned to each coin, and the entire set of 25 win lines.
Black Diamond players may opt to increase or decrease a line bet amount by placing more or fewer coins, anywhere between 1 and 10. The number of coins selected will then multiply the preferred coin denomination, to which the options available are from 0.01 to 0.50. The product of those two factors is the Line Bet, the value used in determining the cash equivalents of coin wins.
A Line Bet therefore may be as low as 0.01, or as high as 5.00 (0.50 x 10 coins). To illustrate the importance of a Line Bet, let us use both values in determining the cash equivalent of the 6 coin credits earned by two (2) winning Ruby icons. The monetary equivalent is 0.06 based on a 0.01 Line Bet (0.01 Line bet x 6 coin credits.) On the other hand 2 Ruby icons garner as much as 30.00, if the related Line Bet is 5.00 (5.00 Line Bet x 6 coins.)
Line Bets however, have to be multiplied by the number of lines in play when launching a game. Inasmuch as all 25 paylines in this Black Diamond slot are static, the corollary Total Bet of a 0.01 Line Bet therefore is 0.25 (0.01 x 25 paylines), while a 5.00 Line Bet equates to the maximum Total Bet of 125.00 (5.00 x 25 paylines).